LIBERTY GRAD BICKHART MAKES HER DEBUT IN THE OCTAGON
(2021-03-17)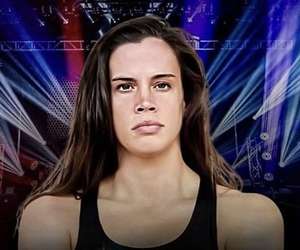 By LANCE LARCOM
Northern Tier West Sports Report
Growing up in Liberty, Brittany Bickhart played all of the sports that you'd imagine a young girl from rural Pennsylvania would - basketball, soccer, softball. While talented, no amount of her success in those mainstream sports could have fully prepared Bickhart for her current sport of choice - MMA fighting.
While she's been training for several years in Jiu Jitsu, Mixed Martial Arts and holds a 2-1 record in three amateur Muay Thai fights, the 25-year old Bickhart recently had her first experience in "the octagon".
On March 11, Brittany fought in Philadelphia at the Cage Fury Fighting Championships 92. She lost the three-round fight by decision, to a fighter who already had a couple of MMA bouts under her belt.
It obviously was not the outcome she had hoped for. However, talk to Brittany for any amount of time at all and you'll quickly realize that she is not a person, or a fighter, who is going to make excuses, and she's going to use the experience to her advantage.
"I'm feeling good," Bickhart states. "I do feel that I could have done better, but I will get back to practice and work on the problem areas in my game. I want to fight again as soon as possible!"
In addition to it being her MMA debut, Bickhart was offered the fight on short notice. But she would not pass up the opportunity, and turned the lack of preparation time into a positive.
"I think it helped," Brittany explains. "Not having as much time to think about it. I just started getting my weight down to the 135-pound limit and kept working."
The Lock Haven grad lives, works and trains in Pittsburgh. In addition to her job as a Probation Officer, Brittany spends a large amount of her time at Stout Training, honing her skills at the Renzo Gracie affiliated gym. It's a lifestyle that most cannot embrace, but Bickhart cherishes.
"When I began training, I just really enjoyed the people that I was around," she says. "I grew to really respect fighters and how they live. I decided that I wanted that for myself too."
The sacrifices that fighters make are not easy, but Brittany knows exactly why she is able to accomplish it. She points to the "tremendous support" she has had in her young fighting career.
"My family has my back one-hundred percent," says Brittany, one of Eric and Amy Bickhart's five children. "Even though it is hard for my Mom to watch! Win or lose, they are proud of me, no matter what!"
Living in a city like Pittsburgh, which Brittany says she "absolutely loves", means that there are added sacrifices that need to be made for the sake of her preparation and training.
"This is a hard sport, with a very demanding and disciplined lifestyle," she explains. "My girlfriend Sarah, who has been there for me from the time I started fighting, has always been supportive. I couldn't't ever thank her enough. We can't always do what's ordinary or normal things people do, on weekends and what not."
It's very clear, being "ordinary" is not in Brittany Bickhart's future plans.
"My ultimate goal is to go pro," she says, "and even then to never be satisfied."
When asked if there were any different paths she possibly could have taken growing up that she wishes she had pursued, that could have helped her in her plans, Brittany is quick to answer …
"I one-hundred percent would have wrestled," she says. "It's SUCH a good skill set to have going into MMA."
What other advice could she give to others who, like her, grew up far from any training facilities, let alone a caged octagon!
"I didn't even know what MMA was until I got to college," Brittany says. "But I feel like you need to put yourself in uncomfortable positions. Try new things. Change is scary, but it helps you grow."
Sound advice for anyone growing up and venturing out of high school and out of our small towns for the first time, fighter or not.
"Taking a fight is super-scary," she continues, "because it is the unknown. You could go out there and knock someone out in ten seconds … or you could get knocked out in ten seconds! But you did it, and that is the best feeling. Win or lose."
THERE'S that fighter mentality! It's what is going to get Brittany Bickhart back in the cage, sooner than later. And it's what will make her successful.
To keep updated on Brittany's career and when/where her next fight will take place, she welcomes everyone to check out her training facility,
Stout Training,
as well as her social media on
Facebook
and
Instagram
.
Photos Provided