DISTRICT IV WRESTLING: WILLIAMSON HAS ALL FIVE WRESTLERS DROP INTO CONSOLATIONS
(2023-02-24)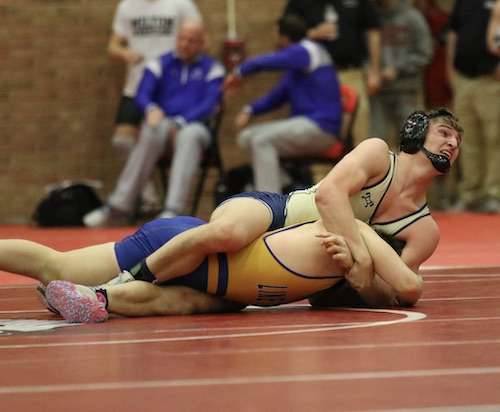 Northern Tier West Sports Report
WILLIAMSPORT — Williamson went 0-for-5 in preliminary round matches on the first day of the District IV AA Championships here Friday, but the Warriors will all get a chance to wrestle back through the consolations.
Hunter Simonds (107) was pinned in 3:02 by Milton's Ty Locke and will face North Penn-Liberty's Brayden Pequignot in the consolations Saturday morning.
Ayden Sprague (145) fell by fall in 1:43 to Benton's Chase Burke. He'll wrestle Line Mountain's Lane Schadel Saturday.
Joel Hultz (160) lost 5-0 to Kohen Shingara from Line Mountain Friday night .. Shingara then major decisioned the No. 2 seed .. and will face Montgomery's Coy Bryson, who beat Wellsboro's Ryder Bowen in the prelims then fell to the No. 1 seed.
Tim Freeman (172) was pinned in 5:09 by Warrior Run's Cole Shupp .. who then major decisioned the No. 4 seed to reach the semis .. and will wrestle Danville's Aaron Johnson, who entered as the No. 3 seed but was beaten by Towanda's Mason Higley in the quarterfinals.
Luke Sottolano (215) was a late addition to the field and lost by fall to South Williamsport's Ryan Casella. The freshman will face Sugar Valley Rural Charter's Kyle Stahl in the consolations.
Wrestling begins at 9 a.m. Saturday morning at Williamsport High School.
PHOTOS: Lance Larcom