DISTRICT IV GIRLS BASKETBALL: LADY MOUNTIES TO FACE LOURDES FOR THIRD PLACE, STATE BERTH
(2023-02-27)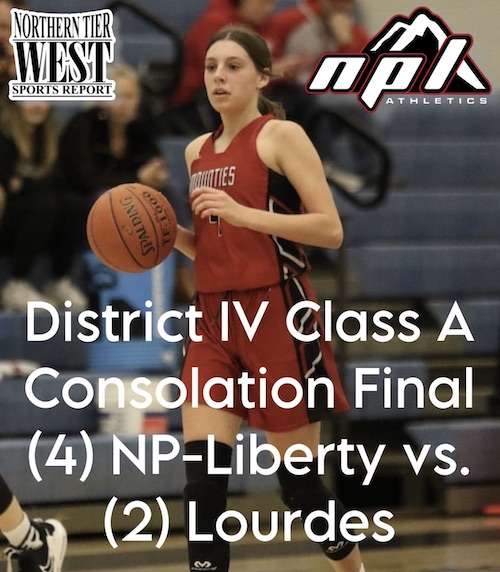 Northern Tier West Sports Report
MONTGOMERY — With their loss in the Class A semifinals, the North Penn-Liberty Lady Mounties will play for a chance to go to the State playoffs when they face Lourdes Regional Wednesday in the 3rd-place game of the District Championships.
The Lady Mounties entered the playoffs with a record of 12-11 as the No. 4 seed, beat No. 5 seed Millville and fell to top-seeded Meadowbrook, while Lourdes Regional went 16-6 and are the No. 2 seed. They topped Cowanesque Valley 53-18 in the quarterfinals and lost 63-47 to No. 3 seed St. John Neumann.
Lourdes gave top-seed Meadowbrook one of their two losses on the season, 40-34, and beat Millville 50-34 during the regular season, while NPL beat the Quakers 49-35 in the quarterfinals and lost 36-32 to them during the season.
With the PIAA taking three teams from District IV into their tournament, the winner of the game gets an invite to States.
The game will be played at Montgomery High School on Wednesday. Tip off is scheduled for 6 p.m. Tickets to the game must be purchased online,
HERE
.