COLLEGE WOMENS BASKETBALL: WELLSBORO'S EMMA COOLIDGE HAS SOLID FIRST SEASON FOR JUNIATA
(2023-02-28)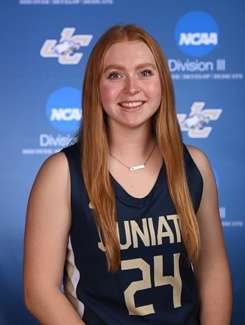 Northern Tier West Sports Report
JUNIATA — Wellsboro's Emma Coolidge recently completed her very successful rookie season as a member of the Juniata College women's basketball team.
Coolidge played in all 25 games for the 7-18 Eagles, started in five and averaged 18 minutes per game. The freshman scored 5.1 points per game, grabbed 4.7 rebounds per game and had 20 steals on the season.
Coolidge scored in all but two of Juanita's games and had a career-high 14 points coming off the bench in a win over Goucher.
A very young team, Juniata has no seniors and only one junior on their roster. Coolidge is one of four freshman on the team.
The Eagles finished 2-12 in their conference and 7-18 overall.
PHOTO: juniatasports.net