HIGH SCHOOL BOYS TENNIS: WELLSBORO OPENS SEASON WITH WIN OVER JERSEY SHORE
(2023-03-16)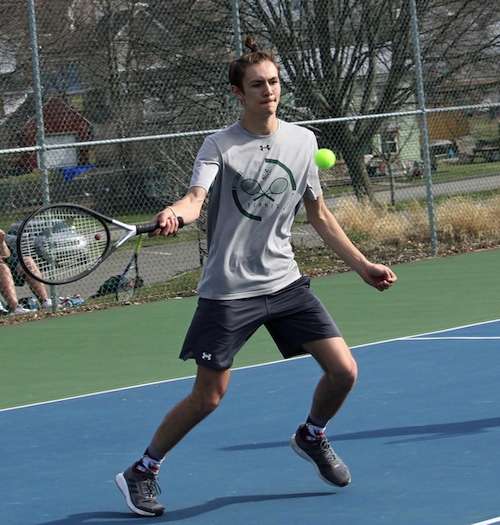 Northern Tier West Sports Report
JERSEY SHORE, PA — The Wellsboro boys' tennis team snuck in their season-opening match here Thursday, taking advantage of the nice weather and earning a 4-1 win over the host Bulldogs.
Senior Peyton McClure is a new addition to the tennis program and played No. 1 Singles, winning 6-4, 6-1 over Jersey Shore's Matt Fravel.
Jacob Abadi earned a 6-2, 6-2 win over Jared Pulski at No. 3 Singles, and both Hornet doubles teams won. Jersey Shore's Ryder Fink defeated Wellsboro's Hayne Webster at No. 2 Singles for the Bulldogs lone win on the day.
Wellsboro (1-0) is scheduled to visit Cowanesque Valley on Tuesday for both teams' league opener.
________
RESULTS
No. 1 Singles
Peyton McClure (W) def. Matt Fravel (JS) 6-4, 6-1
No. 2 Singles
Ryder Fink (JS) def. Hayne Webster (W) 6-2, 6-2
No. 3 Singles
Jacob Abadi (W) def. Jared Pulski (JS) 6-2, 6-2
No. 1 Doubles
Aiden Gehman & Luke Rothermel (W) def. Springman & Stetts (JS) 6-3, 6-4
No. 2 Doubles
Isaac Macias & Wyatt Roth (W) def. Wilson & Lauer (JS) 4-6, 6-4, 10-1