NTL BASEBALL: HORNETS 10-RUN BLACK KNIGHTS TO QUALIFY FOR DISTRICTS
(2023-05-12)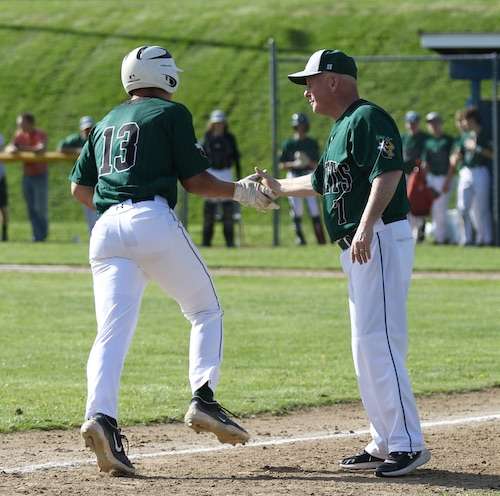 Northern Tier West Sports Report
TOWANDA — Wellsboro senior Cameron Brought put the finishing touches on a 10-0, five-inning win over Towanda with a grand slam in the fifth here Friday, qualifying the Hornets for the District 4 playoffs.
Wellsboro was up 6-0 heading into the fifth when Brought homered to secure the win. The win also locks the Hornets in the District IV Class 3A playoff field.
After two scoreless innings Wellsboro scored four runs in the top of the third inning. Sophomore Alec Magli drew a lead off walk followed by back-to-back-to-back singles from junior Caden Smith, senior Conner Adams, and Brought. All four Hornets would score.
In the fourth inning, Smith and Adams scored after both drew a pair of walks, extending the lead to 6-0.
Then in the 5th, Magli and Adams sandwiched a Smith walk to load the bases for Brought.
Hamblin threw a complete game for the win, allowing just two hits to go with four walks and three strikeouts.
Brought finished with two hits, six RBI and two runs scored. Mascho had three hits and an RBI, Adams had two hits and scored three runs, Smith had a hit and scored three runs and Magli had a hit and scored twice.
The Hornets improve to 10-8 on the season with the win. The team is back in action on Tuesday at home against Wyalusing.