NTL BASEBALL: COWANESQUE VALLEY TOPS WILLIAMSON IN EXTRA INNINGS
(2023-05-12)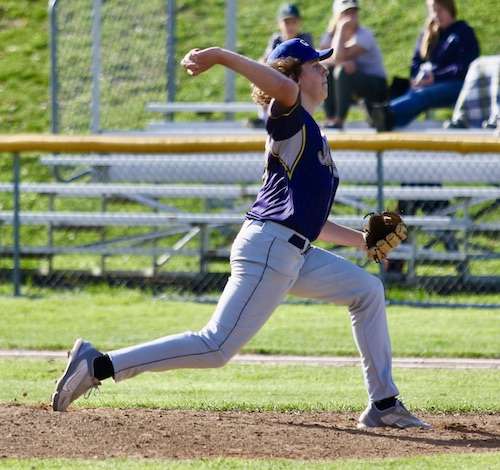 Northern Tier West Sports Report
TIOGA JUNCTION — Williamson rallied from three runs down to send their game with Cowanesque Valley into extra innings here Friday, but the Indians responded with a pair of runs in the 8th inning to earn a 6-4 win over the Warriors.
Larson Swimley and Levi Stahli each delivered an RBI single in the top of the 8th inning, scoring Coen Kemp and Jordan Vargeson to lift CV to the win.
Vargeson went seven and a third innings on the mound for CV, allowing four runs on six hits with seven strikeouts. Cayden Moon relieved Vargeson with one out in the eighth and recorded a strikeout and a game-ending double-play.
Cowanesque Valley scored two runs in the first inning and after a scoreless second, plated a run in the top of the third. Williamson answered with a run in the bottom half and the 3-1 score would hold until the sixth inning.
The Indians extended their lead to 4-1 with a run in the sixth and Williamson rallied in the bottom half to tie the game with Jordan Monroe, Ayden Sprague and Loagan Stickler scoring for the Warriors.
A scoreless seventh inning led to the Indians winning runs in the eighth.
Stahli led CV at the plate with three hits and two RBI, while Vargeson and Swimley each had two base hits, Swimley had an RBI and Vargeson scored a run.
Kemp hat a hit and scored three runs and Ayren Morgan and Hunter Simonds each scored a run.
For Williamson, Monroe had three hits, Sprague had a double and Seth Zimmerman and Tyler VanDelinder each had a base hit.
Stickler started for the Warriors and threw five and a third innings, allowing four runs on four hits and three walks with 10 strikeouts. Monroe went two and a third innings, giving up no runs on a hit and striking out three, and Sprague pitched a third of an inning, allowing two runs on three hits and a walk.
Cowanesque Valley (4-13) has two games remaining in their season, Monday at Galeton and Tuesday at home with Sayre.
Williamson (7-10) is scheduled to visit Canton Tuesday.