NTL SOFTBALL: CV CRUISES TO WIN OVER WILLIAMSON
(2023-05-13)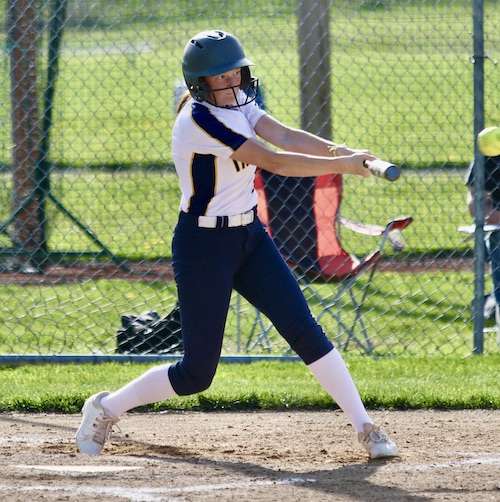 Northern Tier West Sports Report
ELKLAND — Cowanesque Valley used a pair of four-run innings and a complete-game two-hitter from Laynie Labarron to top Williamson 11-1 in five innings here Friday.
The Lady Indians scored four runs in the second inning, two in the third, four in the fourth and their final run in the fifth inning. Williamson scored their lone run in the bottom of the fifth.
Labarron went five innings and allowed one run on two hits and two walks with eight strikeouts. For Williamson, Kenna Thomas started and pitched three innings, giving up six runs on nine hits and Savanna Dean threw two innings and allowed five runs on three hits and five walks.
Katie Adams led CV at the plate with a triple, a double and a single, four RBI and two runs scored, while Labarron and Ruby Sherman each had two base hits and Sherman scored a run.
Logan Hamilton had a double and scored a run and Zeraya Wilson, Maddie Millard and Ella Churchill each had a base hit. Wilson and Millard each had an RBI and scored a run, Churchill and McKenna Cary each scored twice, Huzey had two RBI and Ashley Woodring drove in one.
Gracie Stephens and Hailie Penner had Williamson's two hits and Stephens scored their lone run.
Cowanesque Valley (13-3, 10-2) is scheduled to visit Galeton on Monday, while Williamson (8-9) has two games remaining, starting Tuesday at Canton.