NTWSR PRESENTS THE LAUREL HEALTH 'ATHLETES OF THE WEEK'
(2023-05-14)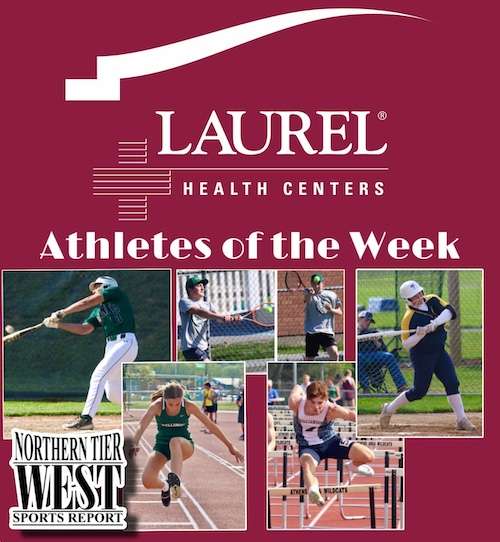 Northern Tier West Sports Report
TIOGA COUNTY — NTWSR is proud to recognize the following student athletes as our 'Laurel Health Athletes of the Week' in baseball, softball, boys and girls' track & field and boys tennis.
SOFTBALL
Logan Hamilton, Cowanesque Valley .. helped the Lady Indians to a 3-0 week with two hits and two runs scored in a14-4 win over Wellsboro, two hits, an RBI and a run scored in the Lady Indians 12-1 win over Northeast Bradford and a double and a run scored in an 11-1 win over Williamson.
BASEBALL
Cameron Brought, Wellsboro .. had a home run, two RBI and a run scored and threw an inning and two-thirds, allowing no hits and striking out two in the Hornets' 9-4 win over CV, had three base hits, with a double, an RBI and two runs scored in Wellsboro's 9-7 upset of Athens and had a grand slam home run and a single, six RBI and two runs scored in a 10-0 District-qualifying win over Towanda.
BOYS TENNIS
Peyton McClure & Jacob Abadi, Wellsboro .. won their opening round District 4 doubles match - 6-3, 6-2 - over Muncy's Revata & Slamka. In the second round McClure & Abadi defeated Towanda's Tavani & Alderfer 6-1, 6-2 before falling to #2 seed Lewisburg (Cecchini & Vishwakarma) 6-0, 6-1 in the quarterfinals.
GIRLS TRACK & FIELD
Annika Gehman, Wellsboro .. won the triple jump (34-08) at the NTL Championship meet, finished 3rd in the high jump (4-08) and 4th in the long jump (16-02.50).
BOYS TRACK & FIELD
Duncan Kerr, Williamson .. won both hurdling events at the NTL meet, winning the 110 (16.08) and the 300 (39.98), and finished second (3:35.39) with the Warriors' 4x400 meter relay team to help Williamson to the boys' title.