HIGH SCHOOL SOFTBALL: CV LADY INDIANS ROLL OVER GALETON FOR NON-LEAGUE WIN
(2023-05-15)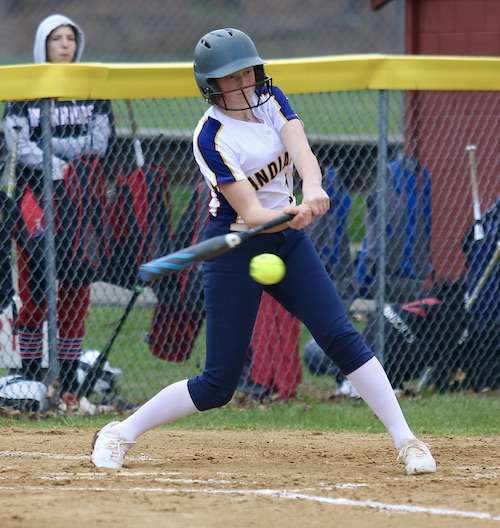 Northern Tier West Sports Report
GALETON — CV's Ruby Sherman struck out eight straight Galeton batters to start the game and 10 in four innings as the Lady Indians rolled to a 17-0 non-league win over the Lady Tigers here Monday.
McKenna Cary threw the final inning for CV, allowing one hit with one walk.
CV scored five runs in the first inning, three runs in each of the third and fourth innings and their final six in the fifth.
Sherman had three base hits in the game, including a triple, and had two RBI, while Kayla Hyde had a double and two RBI and Cassidy Andreason, Ashley Woodring, Tabbitha Piper, Maddie Bailey and Makenzie Surine each had a base hit.
Katie Adams had two RBI and Woodring, Maddie Vandermark, Madison Huzey and Zeraya Wilson each had one.
Scoring runs for CV were: Maddie Millard (2), Wilson, Huzy, Andreason, McKenna Cary, Woodring, Logan Hamilton, Keyana Thomas, Adams, Piper, Ella Churchill, Vandermark, Bailey, Ariana Cary, Hyde and Surine.
The Lady Indians (14-3, 10-2) are scheduled to finish their regular season with a visit from the Sayre Lady Redskins on Tuesday.