NTL BASEBALL: NORTH PENN-MANSFIELD'S SEASON COMES TO AN END WITH PAIR OF LOSSES TO ATHENS
(2023-05-16)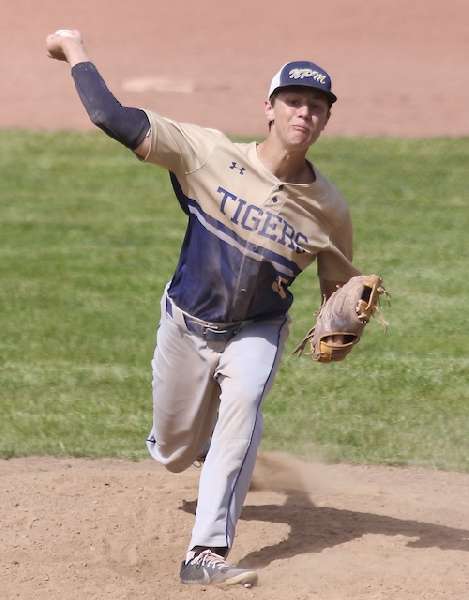 Northern Tier West Sports Report
MANSFIELD — The Tigers wrapped up their season here Tuesday, falling in both ends of their double-header with NTL-I Champ Athens .. 13-4 and 9-5.
NP-Mansfield came into the day at 8-10 on the season. A pair of wins against the 17-1 Wildcats would have qualified the Tigers for Districts, but their season comes to an end with the losses.
In Game 1, Athens scored a run in the first inning and NPM answered with two runs in the bottom half. The Wildcats retook their lead with two runs in the second and after a scoreless third inning, Athens added two runs in the fourth and three in the fifth for a 8-2 lead.
The Tigers scored their last two runs in the bottom of the fifth and Athens tacked four more runs on in the sixth and another in the seventh for the 13-4 final.
Derek Litzelman went 3-for-4 with a double, an RBI and a run scored and Kohen Lehman had a double and two RBI. Cooper Shaw had a hit, an RBI and a run scored, Karson Dominick and Ryan Naylor each had a base hit and scored and Cade Kurzejewski and Alex Davis each had a hit.
Davis started for NPM and would take the loss, going five innings and allowing eight runs (3 earned) on eight hits and a walk with a strikeout. Peyton Gunderson threw the final two innings, giving up five earned runs on six hits and three walks with two K's.
In Game 2, the Tigers took a quick 4-0 lead and held it until the bottom of the third when Athens scored five runs, then plated four more in the fourth. NPM tacked on their final run in the sixth for the 9-5 final score.
NPM had eight hits in Game 2, led by Kurzejewski with a home run and a single, an RBI and a run scored. Shaw, Litzelman and Easton Pequignot each had two base hits while Shaw had a double, two RBI and a run scored and Pequignot, Lehman and Gunderson each scored a run.
Shaw got tagged with the loss, going four innings and allowing nine runs (8 earned) on seven hits and two walks with two strikeouts. Litzelman pitched the final two innings, giving up no runs on a hit and a walk.
The Tigers finish the '23 season with an 8-12 record, including a 7-8 mark in the NTL and 4-6 in the large-school division.
PHOTOS: Lance Larcom