HIGH SCHOOL BASEBALL: WELLSBORO FALLS IN FIRST ROUND OF DISTRICT 4 PLAYOFFS
(2023-05-20)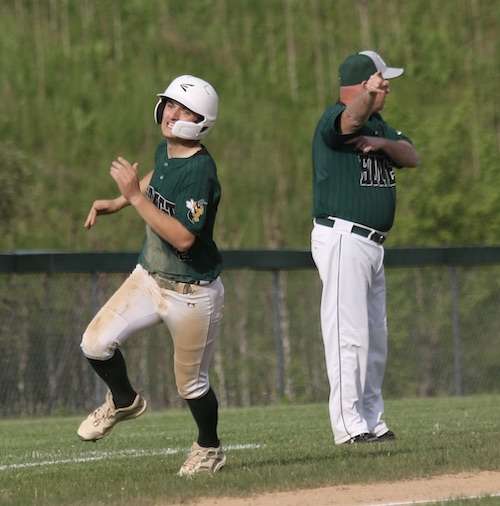 Northern Tier West Sports Report
MOUNT CARMEL — The Wellsboro baseball team saw their season come to an end in the first round of the District IV Class 3A playoffs at Mount Carmel on Saturday, falling to the Red Tornadoes 11-1 in 5 innings.
"We ran into a team who was just better than us but we never gave up. I was really pleased with the effort and desire the boys showed," head coach Steve Adams said. "They battled today and I was proud of them. This marks the end of high school baseball for Conner, Cam and Stan. They did a great job and had awesome careers. In three years Cam was just a few hits shy of 100 which is amazing, Conner set the stolen base record and will play baseball at Mansfield University and Stan was involved in the league leading doubles plays with his turns from Second. The three of them have been a pleasure to coach. They always brought their A game."
The Hornets scored first as Conner Adams led off the game with a base hit, then scored as Blake Hamblin hit into a fielder's choice. Other than a base hit from Cameron Brought, that would be the only offense the Hornets would come up with in the game.
Mount Carmel plated two runs in the bottom half of the inning, added one in the second, five in the third and closed out the game in the bottom of the fifth on a 3-run walk-off home run from Gavin Lasko.
Freshman Dylan Copp started on the mound for Wellsboro and went two and two-third innings, allowing eight runs (7 earned) on 10 hits. Freshman Drayden McGee threw the remainder of the game, allowing three runs on two hits with three walks and a strikeout.
"For me this is my last game and I was glad to share my time with this team. We grew together and the future is bright," continued Adams. "It's also my last game with coaches Ron Brought, Brett Hamblin, and Kyle Smith. Those guys are outstanding coaches and I'm proud to call them friends. I was blessed to have their help and as a parent I was thrilled with the job they did for my son and all of the boys. We have coached a lot of games together and I wouldn't have wanted anyone but them with me. I am thankful for all they have done. I appreciate the parents and the school for giving me the opportunity to coach. It's been a fun ride."
The loss ends Wellsboro's season at 10-11.