NTL FOOTBALL: WELLSBORO UPSETS SOUTH WILLIAMSPORT FOR FIRST WIN
(2021-09-03)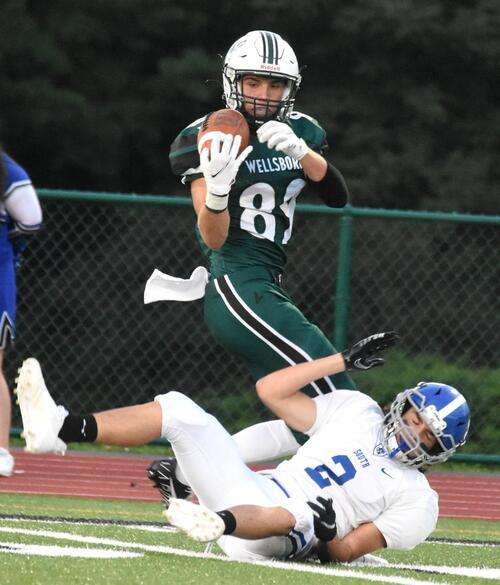 By GARRETT CARRNorthern Tier West Sports Report
WELLSBORO — South Williamsport had come as close to scoring the game's opening touchdown as it could. The Wellsboro defense was faced with a 4th-and-goal at the 1-yard-line late in the first quarter of their match-up at the Wellsboro Athletic Complex Friday night. What happened next was indicative of the entire game.
South signal-caller Landon Lorson ran a play-action fake and rolled to the right, where the Mounties had a high-low concept called. The Hornets covered it well, though, and when Lorson made a sprint for the pylon, Darryn Callahan met him at the 1, and Spencer Wetzel hit Lorson high to keep him from stretching across the goal line.
Wellsboro's speed and physicality had kept South out of the end zone. That same speed and physicality was on display all night as Wellsboro upset the sixth-ranked team in Class AA statewide, 17-7.
"When you see the first goal-line stand, you know that we can do this, and this is our football game," Hornet coach Matt Hildebrand said. "It wasn't one guy making the stop. It was a lot of guys flying to the football."
That's what Wellsboro's defense did all night. A week after giving up 42 points to Montoursville, Wellsboro's defense looked much improved. The speed was there against the Warriors last week, but the physicality was much improved against a bigger and deeper South Williamsport team.
"I'm so proud of our physicality tonight," Hildebrand said. "To stop a team with two backs as big as theirs is huge."
South Williamsport, under standout coach Chris Eiswerth, has always played I-formation, smashmouth football. Wellsboro, which only has 24 players on the roster and uses a rotation of about the same 15 guys on both sides of the ball, met them in those most physical moments. No player embodied that more than junior linebacker Joe Brown, who had seven tackles.
"This week, we've done hand drills because of (last week's loss to Montoursville)," Brown said. "We missed a bunch of tackles last week and wanted to make sure we didn't miss any this week."
A few plays after the goal-line stand, on the first play of the second quarter, Hornet quarterback Isaac Keane found Ryan Sweet in one-on-one coverage on a go route and Sweet did the rest. He made a contested catch, hurdled a defender, stiff-armed another, and found paydirt from 76 yards. Jack Poirier's extra point was true, and the Hornets led 7-0.
"I knew we needed a touchdown badly," Sweet said. "It was a huge burst of momentum. I could feel it."
"(The connection) goes back to small fry and middle school," Hornet quarterback Isaac Keane said of his relationship with Sweet, who has three receiving touchdowns on the year.
The momentum seemed to be short-lived, as South quickly responded. It took them just two plays to score when Clayton Swarthout got fantastic blocking from the Mountie offensive line and took it off the right side for 65 yards. Kayvan Shams's extra point was good and the game was tied at 7-7.
South forced a quick three-and-out, and threatened again when Lorson found Grant Bachman on a deep post down to the 2-yard line. Once again, the Hornet defense was up to the challenge as South's running attack was stuffed, forcing South back to the Hornet 5.
On third-and-goal, Lorson rolled right, but Callahan stepped in front of his pass at the goal line and picked it off, giving Wellsboro another crucial stop. Wellsboro's methodical approach on offense ran off the remaining five minutes of the first half and it went to half at 7-7.
Wellsboro received the opening kick, and it looked like a crucial dropped pass on 2nd-and-10 would result in another three-and-out, but Sweet had other ideas.
Keane once again found him, this time on the right sideline, and Sweet made another highlight reel catch through coverage to to gain 38 yards. Wellsboro converted four third downs en route to scoring on the drive — the final one when Callahan punched one in up the middle on third-and-goal to put Wellsboro up 14-7.
The teams traded punts before Wellsboro went on a drive again. Three more third-down conversions, including a sensational scramble by Keane and a great catch over the middle by Brown put the Hornets in the red zone again.
Facing a fourth-and-6 from the Mountie 14 two plays into the final frame, Hildebrand elected to trust his junior kicker, Poirier, who drilled the 31-yard kick to make it 17-7.
Wellsboro's defense stood tall once again as they forced a quick three-and-out. Disaster struck on the ensuing punt, as a Hornet unwisely tried to pick up a bouncing ball, and South recovered deep in Wellsboro territory.
A few plays later, the Mounties were inside the Hornet 10-yard line again, but that Hornet defense had one more stand. On fourth-and-6 from the 7, Lorson looked to find Bachman on a fade route, but Spencer Wetzel's, who was beat on the long pass play to Bachman earlier in the game, coverage was so good that Bachman had no choice but to commit offensive pass interference to try to fight back to the football. Wellsboro declined the penalty, and with 5 minutes remaining on the clock was well on their way to a huge win.
After Wellsboro recorded two first downs on the ground, South forced a punt. Once again, the Hornet defense stood tall and forced a 4th-and-30, South punted, and Wellsboro took two knees to ice the game away.
"We like to be the underdog," Hildebrand said. "(The win) doesn't change things at all. These kids are going to come to practice and work hard. These kids know there is no one to fall back on. There are 24 kids."
Keane completed 6 of 14 passes for 133 yards and three touchdowns, to go along with 12 carries for 41 yards
The stat line may not seem extraordinary, but the film will tell a much different story. Keane took care of the football, threw the ball away when necessary, and when the time came to make big throws, he made them.
"I watched a lot of tape this offseason on some of the mistakes I've made," Keane said. "I wasn't going to let them happen again this year."
Sweet had 114 receiving yards, and recorded 10 tackles at defensive end.
"No one knew our name, no one knew how good we'd be," Sweet said. "We came out and smacked them in the mouth and beat them."
Both teams sit at 1-1. Wellsboro will host Hughesville next Friday. South Williamsport will look to rebound at home next week as they host a very good Canton team.
PHOTOS: Brian Fees
VIDEO: Garrett Carr