NTL BOYS SOCCER: WELLSBORO TOPS WILLIAMSON FOR FIRST WIN
(2021-09-07)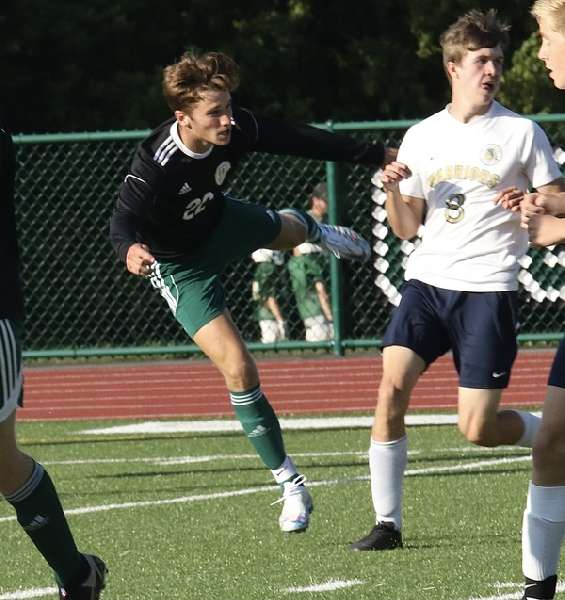 By GARRETT CARRNorthern Tier West Sports Report
WELLSBORO — Last year, Wellsboro went on a scoring rampage against its Northern Tier League foes, scoring 95 goals in just 10 league matches en route to an NTL title. But, with COVID restrictions across the Commonwealth, attendance was severely limited, and those goals often led to just a smattering of claps around Wellsboro Athletic Complex. With crowds back, and a good turnout in the stands, Wellsboro's attack picked up where it left off and put seven goals past Williamson en route to a 7-2 win on Senior Night here Tuesday evening.
"We said (how nice it was to have a big crowd) right at the beginning, it's nice to have people in the stands and I think, you know, I think when you talk about playing at home, you know we have a beautiful, beautiful facility," said Wellsboro coach Todd Fitch. "In addition to that, whenever you're playing at home, you're kind of counting on that energy that comes from people in the stands and that really was nice to hear the noise and to see the people,"
Hornet seniors had a big game on their night of honor. Classmates Owen Richardson and Matt Richards combined for five of the seven Wellsboro goals.
"(Scoring goals) has been a question. All summer preseason (the question was), are we going to build score goals and so it was nice to be able to score some goals and to have those goals come from a variety of different guys. And when they're seniors, you really look to your upperclassmen, your seniors to step up when there are holes to fill," Fitch said.
Wellsboro got the scoring started early as Jack Poirier received a through-ball from Dustin Benedict and Poirier slotted one to the keeper's left with 33:37 left in the first half.
Williamson responded just a few minutes later when Stephen Gohr intercepted a goal kick at the top left corner of the box and hit a sensational strike to the upper-right corner of the goal.
Poirier scored Wellsboro's second goal off a free kick from the middle third by Benedict that Poirier deftly flicked in with just over eight minutes remaining to play in the first half. Then, Owen Richardson scored the first of those five goals by seniors when he hit a ball purely from 26 yards out that went off a jumping keeper's hands and into the net with 1:10 to go in the first half to give Wellsboro a cushion, 3-1.
The Hornets picked up where they left off as with 33:51 remaining in the game Poirier played in a ball toward the penalty spot and senior striker Matt Richards headed the bounding ball around the charging Warrior keeper.
Poirier continued his fine play when he found space in the box, forcing a Warrior defender to commit a foul with 25:27 left in the second half. Richardson stepped up and scored to the right of the keeper to make it 5-1.
Williamson's second goal was scored off of a saved penalty kick by Kade Ficks at 23:38.
Matt Richards added two more goals to give him his first career hat trick. With 14:43 left in the match, he took a feed from Poirier and slotted it to the left of the keeper. Then with 6:11 remaining, the converted defender took a feed from Richardson with his back to goal at the top of the 18, executed a turn and shot past the keeper to make it 7-2.
Wellsboro (1-1) is back in action Thursday when it takes on Towanda. Williamson falls to 0-1 and travels to Northeast Bradford Thursday.
PHOTOS: Lance Larcom