NTL GIRLS SOCCER: HORNETS TOP NPM FOR FIRST WIN
(2021-09-08)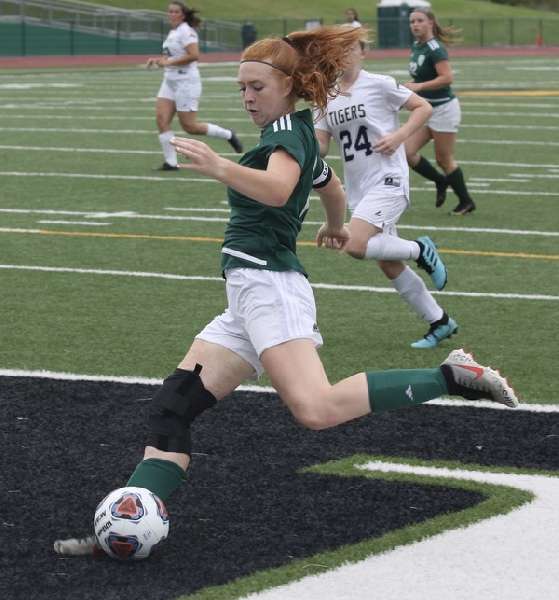 By GARRETT CARR
Northern Tier West Sports Report
WELLSBORO — After recording just one shot-on-goal in their 3-0, season-opening loss to South Williamsport Saturday, Hornet coaches Billy Stokes and Jorge Toboada knew they needed more offense going forward. Throughout Wednesday's home tilt with rivals North Penn-Mansfield, the Wellsboro brain trust mixed up their attacking personnel and it paid off as Wellsboro got their first win of the season — a 3-0 decision over the Tigers.
"That's something we do most seasons … it's early season and having lost most of our forward core from last year, there's a lot of trying to figure out, 'alright, who fits in which position right side, left side, forward, back, midfield wing.' So yeah, we're still working out our attacking combinations," Stokes said after the game.
Wellsboro got off to a quick start offensively as they created a ton of chances and leading returning scorer Jordyn Abernathy looked to be on the doorstep a few times, only to be unable to convert.
In the 19th minute of the match, the Hornets got on the board as Molly Ingerick found herself with acres of space down the right flank. She played in a dangerous ball that had to be parried away by Tiger keeper Tierney Patterson. Patterson's deflection was right into the path of sophomore Sara Seeling, and she poked it in past Patterson for the game's first goal.
Wellsboro continued to pepper the Tiger defensive third, but NPM's defense stood strong and kept it to 1-0 at halftime.
Wellsboro would get the game's second goal with 17 minutes remaining in the game. Senior Hannah Morey, who has played in defensive roles during her career, showed off the ability to strike a ball that makes her the Hornet's corner-kick taker when she took a shot from 21 yards out and found the top left corner of the goal on a line drive to make it 2-0.
"She's been hunting for that goal. As a primary defensive player she does not get a lot of opportunities," said Stokes.
"Plus, she usually is our corner-kick taker. She's not in a good position to be scoring goals," noted Stokes. "And so, to give her an opportunity to come up and play and not only (play) she scored the goal, but she controlled her area of the field very well ball control very calm, had good distribution, I mean she did it all for us today."
Wellsboro would score its final goal with 1:55 left in the match as Abernathy finally found the back of the net at the end of a frustrating night for the standout. Maddy Mascho played Abernathy through, and the junior powered it into the net.
Patterson played an exceptional match in goal for the Tigers, constantly coming off of her line to corral Hornet attacks, and collecting eight saves.
Lily Abadi had two saves for Wellsboro.
Both Wellsboro and NP-Mansfield will next play on Monday, as the Hornets will travel to Hughesville and the Tigers will visit Williamson.
PHOTOS: Lance Larcom