NTL CROSS COUNTRY: CV BOYS SWEEP TRI-MEET, GIRLS GO 0-2
(2021-09-14)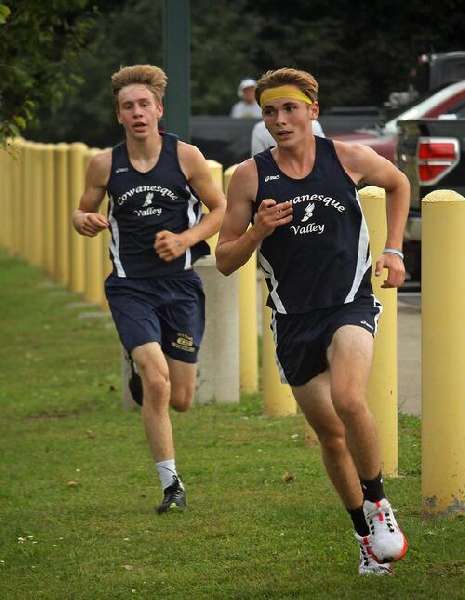 Northern Tier West Sports Report
WYALUSING — Cowanesque Valley picked up a pair of NTL wins Tuesday on the backs of top-two overall finishers Owen Cummings and Kristian Mizdail, downing both Wyalusing and Troy in boys cross country action.
The Indians beat Troy 19-38 and edged Wyalusing 26-30.
Cummings (17:18) and Mizdail (17:24) were followed by teammates Nathaniel Welch (19:02) in fourth place overall and Nathaniel Boyer (21:08) in ninth.
Bryson Fuhrer (21:51) was 14th, while Michael Lundy (22:39) was 16th. Matt McKee (23:28), Thomas Baker (23:33) and Cody Fleming (23:39) rounded out the top-20.
Caydon Stone (25:03), Benjamin Doran (27:54) and Cole Warner (28:04) also competed for the Indians.
On the girls' side, CV dropped both meets, falling 20-36 to Troy and 19-37 to Wyalusing.
Chelsea Hungerford (24:38) was the top finisher for the girls, taking fourth place overall in the tri-meet.
The remainder of CV's runners were: McKenna Cary (26:24), Ali Bieser (27:05), Teagan Jones (30:07), Ryann Slusser (32:16) and Chloe Spencer (35:35).
Both Indian squads are scheduled to host a tri-meet with Wellsboro and Sullivan County next Tuesday.
PHOTOS: Chris Manning