ON TAP TODAY: A LOOK AT TODAY'S SCHEDULE IN THE WEST
(2021-09-17)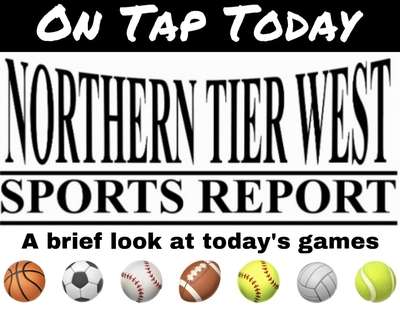 Northern Tier West Sports Report
THE WEST — A pair of divisional football games occupy the light Friday schedule all on their own, as Cowanesque Valley will host fellow small-school member Muncy, while North Penn-Mansfield visits Troy in a large-school match-up.
FOOTBALL
Cowanesque Valley (2-1) vs. Muncy (2-1) ..The Indians are coming off of two great wins .. 26-19 over Sayre and 15-14 over Northwest Area .. after a season-opening 41-0 loss to South Williamsport. Despite the lopsided final, the first half of that first game revealed some positive signs for the young CV squad. They gave up 13 first-half points, but SW earned them.
CV has shown improvement each week .. no more evident than in the play of QB Jake Schmitt. The junior signal caller is making good decisions, is excelling at leading his Dad's/Head Coach Mike Schmitt's high-octane offense, and is locked in with his receivers already in this young season.
Muncy is 2-1 as well .. and apparently are the number two-ranked single A team in the state. They opened their season losing 40-21 to Northern Lehigh, then beat CMVT 58-0 and Wyalusing 42-8.
North Penn-Mansfield (1-2) @ Troy (2-1) .. The Panthers are coming off of a 50-7 loss to Bald Eagle Area, preceded by a 28-18 win over Wyalusing and a 48-7 season-opening loss to Canton.
Troy has won two straight .. 35-7 over Central Columbia and 12-0 over Athens .. after a season-opening 20-0 loss to Bald Eagle Area.
These two played twice last season, with the Trojans winning both, 34-21 and 21-0.