HIGH SCHOOL CROSS COUNTRY: CV AND NORTH PENN-MANSFIELD BOTH COMPETE AT LASAGNA INVITE
(2021-09-17)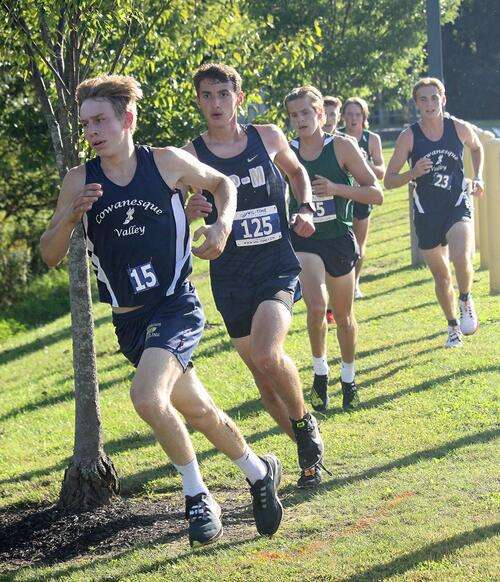 Northern Tier West Sports Report
WYALUSING — The Lasagna Invite was held Friday evening, as the Wyalusing Rams welcomed boys' and girls' cross country teams from across the area, including both the Cowanesque Valley and North Penn-Mansfield squads.
In the boys' race, CV's Owen Cummings was the overall winner, in 17:09.4, leading the Indians to a second-place finish in team points. Hughesville was the boys' team winner, as their runners finished 4th, 5th, 8th, 10th and 13th, for a total score of 40.
After Cummings, Kristen Mizdail was the next CV finisher, placing third in 17:24.3.
North Penn-Mansfield's Noah Shedden placed second, in 17:22.5, but the Tigers remaining runners finished outside of the top-50, leaving NPM in last place on the day.
Nathaniel Welch finished in seventh for CV, in 18:41.1, while Nathaniel Boyer and Glenn Barnes finished in 24th and 25th, in 20:59.2 and 20:59.3.
CV's remaining runners, Bryson Fuhrer (21:48.0) and Michael Lundy (22:41.9) finished 31st and 38th.
For NPM, Jude Rohl (24:37.7) was 52nd, Riley Dunn (25:57.1) was 57th, Isaac Tice (26:06.6) was 58th and Robert Schultz (30:45.3) was 70th.
On the girls' side, North Penn-Mansfield finished in fifth place, while the Cowanesque Valley girls did not have enough runners to score as a team.
NPM's finishers were Addison Farrer (24:06.1) in 8th place, Ella Farrer (25:49.6) in 16th, Madalyn Farrer (26:54.2) in 27th, Madelynne Johns (27:35.8) in 29th, Gabriella Gregory (28:01.7) in 32nd, Anna Kennedy (28:54.0) in 34th, Ara Furry (32:11.6) in 45th and Kendelle Holleran (32:46.5) in 47th.
Cowanesque Valley had four runners, with McKenna Cary being the top finisher, in 17th place, with a 25:51.2. Ali Bieser (27:17.1) was 28th, Teagan Jones (28:56.1) was 35th and Ryann Slusser (33:17.8) was 52nd.
PHOTOS & VIDEO BY CHRIS MANNING