NTL FOOTBALL: COWANESQUE VALLEY PUSHES, FALLS TO MUNCY
(2021-09-17)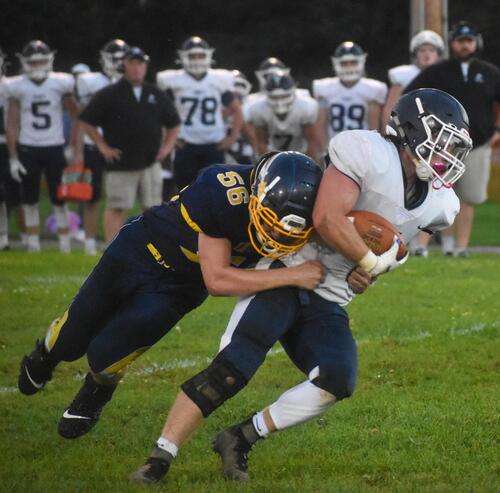 Northern Tier West Sports Report
WESTFIELD — Cowanesque Valley gave up 20 early points Friday, battled back to carry a lead into the fourth quarter against the number two single A team in the state, but ultimately gave up 22 unanswered points in the fourth quarter, falling 42-21 to Muncy.
After Muncy scored on a long run with 4:33 left in the first quarter, CV's Tanyon Brown returned the ensuing kickoff 82 yards, closing the lead to 7-6, Muncy.
The Indians, of Muncy, scored on another long run, then capitalized on a fumbled punt return by CV, eventually connecting on a 28-yard TD pass and taking a 20-6 lead.
In the second quarter, Cowanesque put a drive together and on fourth-and-five from the Muncy nine yard line, running back Timmy Freeman took a screen pass from Jake Schmitt and scored. Brown and Schmitt connected on the two-point-try to close the gap to 20-14.
With the ball and time running out in the first half, Schmitt connected with his tight end, Fletcher Good, on a 59-yard touchdown catch and run. Brown's extra point gave CV the 21-20 lead going into the locker rooms.
After a scoreless third quarter, Muncy wasted little time in the final quarter before ending a drive with a six-yard TD run just over a minute in.
Less than three minutes later, Muncy scored again, then tacked on a late score with under three minutes left in the game, bringing the final to 42-21.
Cowanesque Valley's record evens at 2-2 with the loss. They will travel to Columbia Mountour Vo-Tech next Saturday for a 1 p.m. kickoff.
PHOTOS: Nick Coyle