ON TAP TODAY: A LOOK AT TODAY'S SCHEDULE IN THE WEST
(2021-09-18)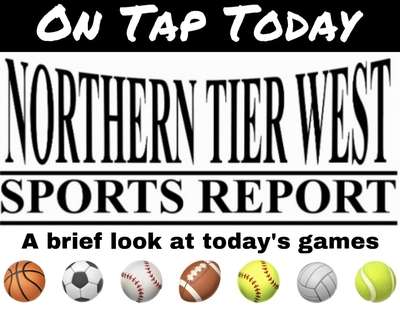 Northern Tier West Sports Report
THE WEST — There's enough games on the schedule today in the West to make a full day, as seven West teams will compete in six contests. With the first starting at 10 a.m. and the last starting at 6 p.m., and most games at "home" or nearby, fans have a lot of options to come out and support their teams.
GIRLS SOCCER
Wellsboro vs. Williamson, 10 a.m.
North Penn-Mansfield vs. Milton, 11 a.m.
VOLLEYBALL
CV @ Northern Potter, 12:30 p.m.
Williamson vs. NEB, 10 a.m. (Jr. High start, JV/V to follow)
Wellsboro @ Troy, 7:30 p.m.
BOYS SOCCER
Wellsboro vs. Troy, 4:30 p.m.