DISTRICT IV VOLLEYBALL: LADY WARRIORS FALL IN AA SEMI-FINALS
(2021-11-02)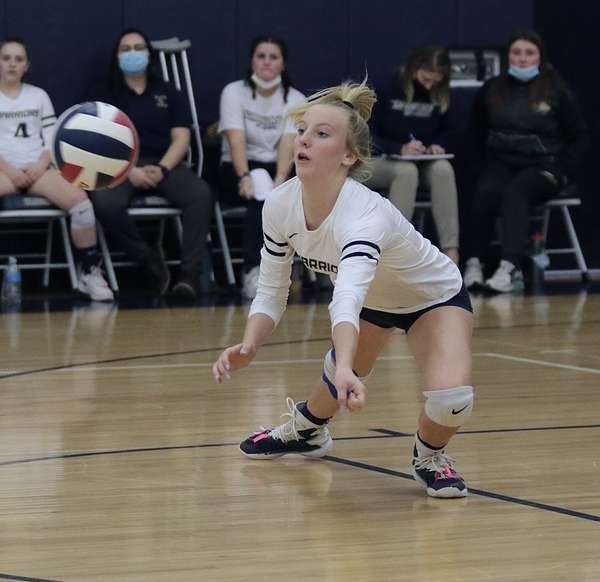 Lance LarcomNorthern Tier West Sports Report
TIOGA JUNCTION — Williamson was unable to ever truly gel offensively in their District IV semi-final match against Wyalusing Tuesday, while also having a hard time handling a well-balanced Ram front line, ultimately falling in straight sets and getting knocked out of the AA playoffs.
The Warriors held an early 4-2 lead in the first set, but fell behind by as many as six points and eventually lost 25-21 to go down 0-1.
In the second set, Williamson led by as many as seven points (11-4, 13-6, 14-7), but at 18-13, the Warriors surrendered 12 of the last 14 points and fell 25-20 to the Rams and found themselves in a 2-0 hole.
It would be the Rams who came out swinging in the third set, going up 8-2, before Williamson rallied to tie the set at nine. The Warriors looked to be on their way to a comeback win in the set, as they led 19-16, but Wyalusing came up with big saves and multiple hustle plays to take nine of the last 12 points to earn the win, as well as a chance to play for the championship.
Riley Sargent, one of only two seniors on the Warriors' roster, finished with 11 kills and a pair of blocks. Sophomore T.R. Jones had seven kills and a pair of blocks, while senior Kaylee Sargent had three kills.
Junior Grace Stephens had 21 assists and added two kills.
The Lady Warriors finish the season with a record of 12-7, including an 11-4 mark in the NTL and a 7-3 record in the Small School Division, good for second place.
Look for a Championship preview here soon, as the Rams will now face 15-1 North Penn-Liberty for the AA title on Thursday.
PHOTOS & VIDEO: Lance Larcom