COLLEGE VOLLEYBALL: NPL'S MINYO COLLECTING WINS AND AWARDS AT CEDAR CREST
(2021-11-04)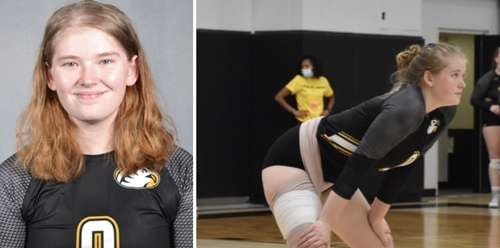 Northern Tier West Sports Report
ALLENTOWN — North Penn-Liberty volleyball alum Maddison Minyo has spent her inaugural collegiate season helping Cedar Crest to an 18-4 overall record, including a 9-0 conference mark, and collecting several accolades along the way.
The Falcons are the top seed in the the Colonial States Athletic Conference Tournament. They'll host Cairn University Thursday in the semi-finals.
Minyo was named the CSAC Offensive Player of the Week once this season, and was twice named to the conference Honor Roll, and was recently recognized with a spot on the All-Conference Second Team.
The sophomore outside hitter finished the season with 133 kills, 94 digs, 11 service aces and five blocks. She finished in the Top 5 of the CSAC in hitting percentage (.274) and her 133 kills was ninth in the conference and fourth on the team.
Cedar Crest topped today's opponent, Cairn, last Saturday, winning 3-0. In the match, Minyo had 13 kills, 12 digs and 15.5 points .. all team highs.
The Falcons game can be followed live
HERE
.