DISTRICT IV VOLLEYBALL: NORTH PENN-LIBERTY TITLE STREAK SNAPPED
(2021-11-04)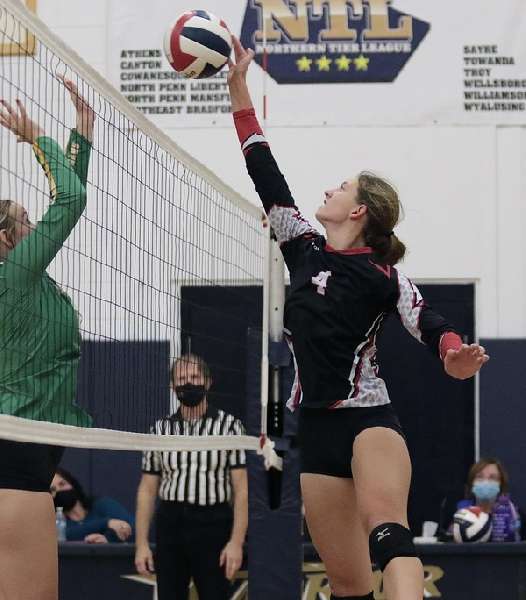 Lance LarcomNorthern Tier West Sports Report
TIOGA JUNCTION — It's official .. the North Penn-Liberty volleyball team is the victim of it's own success. Word of their "vulnerability", and the opinion of how "beatable" the Lady Mounties were this season spread throughout the league .. and in the gymnasium here Thursday night before their District IV Final match against Wyalusing .. due to NPL having lost nine
SETS
during their 15-1 season. Exclamations of their dynasty falling and eras ending quickly followed, as the Mounties were beaten 3-0 by Wyalusing, snapping a five-year streak of District Championships and an 84-match win streak against District IV teams for NPL.
Credit to Wyalusing, who played loose, yet efficiently, like a team that had zero to lose and was just happy for the opportunity to play for second place. The Rams' victory, while surprising, was not a fluke. They earned every point of their 25-23, 25-23 and 25-17 wins against NP-Liberty by consistently catching the young Mounties out of position, and with a service game that NPL had an uncharacteristically-difficult time handling.
In the first set, NPL came out strong, using five kills to go up 10-1 and then 12-3. That's when back-to-back big plays by Olivia Tewksbury - a kill and an ace - rallied the Rams. After an illegal contact from NPL, three more Ram kills and an ace cut it to 12-10.
The Mounties would extend the lead back to four points, but three straight points for the Rams off NPL errors cut it to 16-15.
The Mounties would get it to 19-15 again, thanks to kills from Payton Chapel and Saige Lehman. They would push their advantage to 22-17 on a Lehman ace, but that's when Wyalusing began a set-clinching rally.
Wyalusing's London Edwards scored on a dump, then an ace and a Sage Superko kill made it 22-20. A Darby Stetter kill cut it to 23-20, but a Superko block gave the Rams the ball back.
Back to back hitting errors by NPL saw the match tied up. Edwards then racked up two big serves - an ace, and a short serve that just barely cleared the net. NPL couldn't handle it, and Wyalusing took the first set 25-23.
Wyalusing started the second set with a small 2-0 lead, then NPL rallied to go up 8-6. They held that lead for much of the second set, until an Edwards kill at 12-12 put the Rams up by a point.
Wyalusing went on a 3-point run then to take a 16-12 lead. NPL rallied with five points of their own, helped by back to back Chapel aces.
An Emily Girven kill tied things up, and it stayed that way as both team had hitting problems. Back to back kills from Emerald Walker and Stetter saw the Mounties take a 21-19 lead, but once again it was the Rams coming up with the big points.
A Kipp kill made it 21-20. After a bad serve, Wyalusing had four straight kills - two by Edwards, one by Kipp and one by Karissa Brown - pushed them forward 24-22. An Aubrey Pequignot swing trickled over the net to cut it to 1-point.
The Rams took a time-out, then Superko got the winning point off a kill.
The third set saw Wyalusing jump out quickly, taking a 13-6 lead. They would extend that lead to 17-9 before the Mounties rallied with five straight points to cut it to 17-14.
Back to back miscues by the Mounties, followed by a Kipp kill, put the Rams back up 20-14. Two straight points from NPL made it 20-16, but that's as close as it got.
Three more points for Wyalusing saw them go up 23-16, and the celebration was on, as that's when they knew they were going win the district title.
After an NPL point, a Kipp kill set up Newton's final serve that NPL struggled to handle, giving the Rams the title.
Mountie junior Darby Stetter finished with 10 kills and 11 digs, as junior Aubrey Pequignot added five kills and 14 assists.
Sophomore Saige Lehman had five aces, five kills, and 10 digs, while junior Alexia Kshir notched a kill, two assists and seven digs.
Sophomore McKenna Lightner had 18 digs, and sophomore Payton Chapel finished with five kills, while lone-Mountie senior Emerald Walker had two kills and two blocks.
North Penn-Liberty finishes their season at 15-2, including a 13-0 league record and a 7-0 mark in the Large-School Division, giving the Mounties the NTL Championship.
It speaks volumes about the Mountie volleyball program, and should send notice to the rest of the NTL and District IV, that winning an NTL title and placing second in the District is seen as a "down" season.
_____________________
PHOTOS: Lance Larcom
VIDEO: Chris Manning
Chris Manning and Garrett Carr contributed to this story.