ON TAP TODAY: A LOOK AT TODAY'S SCHEDULE IN THE WEST / COWANESQUE VALLEY AND NP-MANSFIELD OPEN PLAYOFFS
(2021-11-05)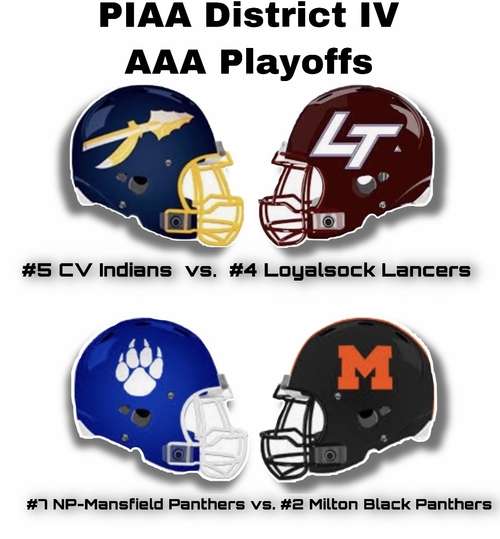 Lance LarcomNorthern Tier West Sports Report
THE WEST — Two of our three playoff-bound football teams will take to the field tonight in first-round action of the District IV playoffs, as Cowanesque Valley will travel to Loyalsock to take on the Lancers and North Penn-Mansfield plays Milton at Central Columbia, while Wellsboro has an afternoon game tomorrow at South Williamsport.
CV (6-3) at Loyalsock (6-4), 7 p.m.
The 5th-seeded Indians look to continue their dream season .. one in which they've shattered individual program records and set a new standard for success .. when they visit the 4th-seeded Lancers in the first round of the AAA playoffs.
Offensively, Loyalsock, much like CV, relies on a three-headed monster of athletes at the skill positions. QB Tyler Gee has completed 82-121 passes for over 1,500 yards this season, with 18 touchdowns and only two interceptions.
His favorite target, by a lot, is Rian Glunk, who has 47 catches for 863 yards and 12 scores. The Lancers second option is the very solid JerVal Weeks-Shuler, who has five touchdowns among his 20 catches, good for over 400 yards.
Loyalsock's workhorse back is D1 basketball recruit Davion Hill, who has over a thousand yards on 179 carries, with 13 touchdowns.
Making all of those numbers possible, like CV again, is an athletic line, which also boasts a couple big guys that will try to slow down an Indian defense that has pitched a pair of shutouts and, despite a couple lopsided losses to strong teams, gives up less than three scores per game.
The Lancers surrender 27 points per game. That number jumps to 45 points per game in Loyalsock's four losses. In their last four games .. three wins and a high-scoring loss to Mt. Carmel .. the Lancers have scored over 45 points per game.
CV will counter with their own "Big 3" .. as QB Jake Schmitt has thrown for 1,485 yards and 11 touchdowns while completing 116 of his 214 passing attempts. The junior will have to avoid adding to his 10 interceptions against Loyalsock, and find a second option to target behind leading receiver Tucker St. Peter, who has 42 receptions on the year, good for 568 yards and three scores.
The Indians will again miss Tanyon Brown, injured two weeks ago against Montgomery, and his 30+ receptions and three scores. Senior Elliott Good has shown promise as a second option, hauling in 23 catches for over 400 yards and three touchdowns.
Running back Timmy Freeman continues to impress during his freshman season, accounting for 1,100 yards on 168 carries and 11 receptions, with 13 touchdowns.
Senior lineman Kade Sottalano (55 tackles, 13 TFL, 6 sacks), sophomore Ean Bump (56 tackles, 5 TFL, 3 sacks) and company can match Loyalsock's athleticism across the offensive and defensive lines, and Indian leading tackler Mikey Sipps (109 tackles, 7 TFL) will have to play as solidly as he has all season from his linebacker spot.
The two teams have no common opponents, as Loyalsock's only foray into the NTL was a 42-14 drubbing they received from Troy in Week 6 .. who CV unfortunately was not scheduled to play this season.
Kickoff is scheduled for 7 p.m. in Loyalsock.
NP-Mansfield (5-5) at Milton (6-4), in Central Columbia, 7 p.m.
The Panthers, seeded 7th, take on a 2nd-seeded Milton Panthers squad who, much like NPM, has suffered lopsided losses, blown out a couple teams and had close wins and losses in their regular season.
Milton was thumped 62-7 by 10-0, state-ranked Jersey Shore, and lost 52-14 to 5-4 Lewisburg. They lost by two scores to 5-5 Shamokin, but beat 0-9 Warrior Run 48-14, 1-9 Towanda 42-8 and non-DIV Holy Redeemer 35-12.
They squeaked by 6-4 Mifflinburg 15-14 and beat 1-9 Shikellamy by a touchdown.
North Penn has had similar successes and defeats. They thumped 0-8 CMVT 41-0, 1-9 Midd-West 35-14 and 1-9 Towanda 34-7, while falling to 10-0 Canton 48-7, 7-3 Troy 35-0 and 6-4 Athens 44-14.
The Panthers gave 2-7 Line Mountain one of their two losses, 20-19, and beat 2-8 Wyalusing 28-18, while falling to rival Wellsboro, 5-3, by a 13-0 score last weekend.
NPM will rely heavily on junior running back Kohen Lehman, who has accounted for 800 yards rushing on 148 carries with 11 touchdowns, while also catching nine passes for 100 yards and two scores.
Versatile senior Cam Fabian has had 37 receptions on the season, good for 380 yards and four TDs, and has rushed for over 300 yards on 61 carries.
QB Karson Dominick has completed 96 of his 159 passing attempts, good for 900 yards and nine touchdowns. The sophomore signal-caller spreads the ball around, as senior Wyatt Wesneski has had 17 receptions for 150 yards, and junior Sammy Lawrence has hauled in 16 catches for 164 yards and a score.
Defensively, senior Gaven Sexauer leads the way with 132 tackles, four TFL, four fumble recoveries and two interceptions from his linebacker spot.
Fabian (79 tackles, eight TFL, two interceptions) and Lehman (56 tackles, six TFL, three sacks, three interceptions .. including two returned for a score) will also be key to the Panther defense.
NP-Mansfield's game, being played at Central Columbia due to Milton's field being unavailable, will kick off at 7 p.m.