DISTRICT IV FOOTBALL: BIG PLAYS DOOM COWANESQUE VALLEY AT LOYALSOCK
(2021-11-05)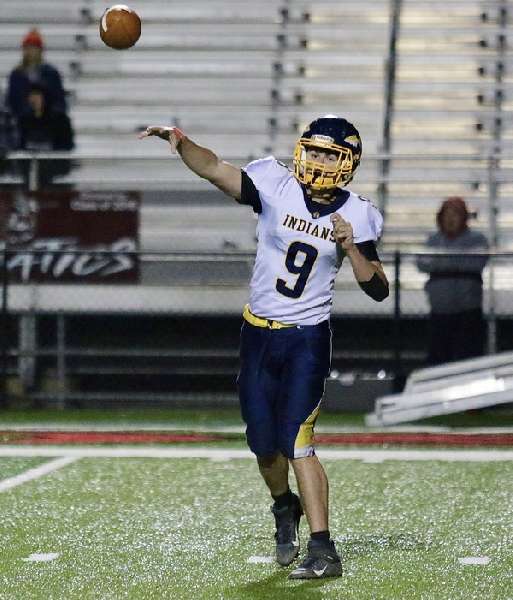 Lance LarcomNorthern Tier West Sports Report
LOYALSOCK TOWNSHIP — Cowanesque Valley racked up nearly 400 yards of offense in their District IV Class 3A opening-round playoff game against Loyalsock Friday night, but the big-play potential of the Lancers, four turnovers and five empty-handed trips to the red-zone doomed the Indians, as they had their season ended with a 47-7 loss.
Loyalsock had few problems finishing their drives, scoring on all six first-half possessions they had, including a pair of one-play drives that resulted in long scoring plays and a 41-0 halftime lead.
The Lancers opened the game with a seven-yard score by QB Tyler Gee, who had gotten Loyalsock into CV territory with a big fourth-down conversion pass, along with a pair of runs by Lancer running back and D1 basketball recruit Davion Hill.
CV did not appear fazed .. or intimidated .. by the historically strong Lancer team. While Loyalsock went 6-4 this season, that record does not indicate what the Lancers have been for a long time .. one of the premier teams in the area.
Cowanesque Head Coach Mike Schmitt says that is part of the process .. part of the culture that he and his staff and players are building.
"We're trying to get away from that", Schmitt explains, while discussing his team's display of 'still playing hard' while down several scores .. an almost-backhanded compliment towards teams who aren't very good but try really hard .. while getting thumped.
"We need to move beyond that attitude. We expect to play hard, no matter who we're playing, and more importantly, we expect to win. We are headed in the right direction .. made huge strides this season."
The Indians followed Loyalsock's initial score up with a nine-play, 56-yard drive that featured three Jake Schmitt pass completions and a trio of hard runs by freshman back Timmy Freeman. A Lancer interception of a Schmitt pass into the end-zone ended the threat, and was the first of four picks Schmitt would throw on the night.
The junior signal caller was very solid, despite the four interceptions. Schmitt completed 21 of his 40 attempts, many while under duress, for 225 yards.
After Loyalsock scored on a Hill 1-yard dive, following a big 45-yard gain on a screen pass got them to the one, Schmitt and company got back to work.
Starting on their own 24, Freeman got the Indians out to the 35. It appeared the short drive had stalled, but senior punter Mikey Sipps showed off his versatility as the lineman hit freshman Fletcher Good in the Loyalsock secondary for a 24 yard gain and a first down in Lancer territory.
Schmitt hit Elliott Good for a 24 yard gain and Freeman bulled his way to the seven, but on fourth and goal from the nine, receiver Tucker St. Peter slipped coming out of his cut on the Lancer turf and the Indians came up empty handed.
Loyalsock again connected on a long pass play, again to the 1-yard line, where Hill again punched it in for the score. The Lancers led 21-0 with just over 10 minutes left in the half.
A Lancer interception ended CV's next possession, and Loyalsock used one play to cover the last 56 yards as Gee hit Glunk with a bomb to make the score 28-0, with just under nine minutes left til the break.
CV's next possession was again stopped by a Lancer interception, and Hill would break free for a 56-yard touchdown on the subsequent play, extending the Lancer lead to 34-0 after CV blocked the extra point attempt.
After being forced to punt on their next possession, the Indians again surrendered a big-gainer, as Gee hit Naz Smith for a 33-yard score and a 41-0 lead with under four minutes left in the half.
Cowanesque executed an almost perfect two-minute offense to drive to the Lancer one-yard line, highlighted by three Schmitt-to-St. Peter hook-ups, a completion to Elliott Good and six Freeman carries, but with four seconds left in the half, Freeman was stuffed at the three and the Indians went into the locker rooms down 41-0.
Freeman finished the game with 127 yards on 22 carries, continuing his phenomenal freshman season on the District-playoff level.
CV took the 3rd-quarter kickoff and promptly put on an 8-play, 70-yard drive that ended up at the Lancer 11-yard line. From there Schmitt found the freshman Good in the front corner of the end zone for the Indians first and lone points on the night. Sipps booted the extra point through and the score was 41-7 Loyalsock with just over eight minutes left in the third quarter.
Sipps got the ball right back for CV on Loyalsock's next possession, stripping the Lancer back of the ball, that Freeman recovered, but another CV interception .. this one returned for a score .. extended the Loyalsock lead to the game's final score of 47-7.
CV would have two more drives stall out inside the Loyalsock twenty, and the Indians historic season would come to an end.
Coach Schmitt saw positive signs from his young team in their first experience at a playoff level.
"I thought we moved the ball well," Schmitt stated, "and while it didn't show tonight, I think we came a long way during the season defensively. We will continue to make strides and we'll get better."
The Indians dressed 22 players for the game Friday .. only six of which were not freshmen or sophomores. Only six seniors dot the Indians' roster.
St. Peter, one of those seniors, finished the game with nine catches for 147 yards, while fellow Senior Elliott Good had eight grabs for 69 yards. Freshman Fletcher Good had three catches for 43 yards and the Indians' lone score.
Cowanesque Valley finishes their season with a record of 6-4, with those six wins tying for the most wins in program history (1975's team finished 6-3) and the winning record being the Indians' first since 1979.
Look for a wrap-up of the Indians' historic season coming soon.
_________________________________
SCORING
1st Qtr.
8:38 - Loy - Gee 7-yd run - kick good - 7-0
4:12 - Loy - Hill 1-yd run - kick good - 14-0
2nd Qtr
10:13 - Loy - Hill 1 yd run - kick good - 21-0
8:52 - Loy - Glunk 56-yd pass from Gee - kick good - 28-0
6:07 - Loy - Hill 56-yd run - kick failed - 34-0
3:37 - Loy - Smith 33 yd pass from Gee - kick good - 41-0
3rd Qtr
8:13 - CV - F Good 11-yd pass from Schmitt - Sipps kick good - 41-7
2:41 - Loy - Cavanaugh 50-yd Int return - kick failed - 47-7
____________________________________________
PHOTOS/VIDEO: Lance Larcom