PIAA CROSS COUNTRY: COWANESQUE VALLEY TRIO COMPETES AT STATE MEET, CUMMINGS BRINGS HOME MEDAL
(2021-11-06)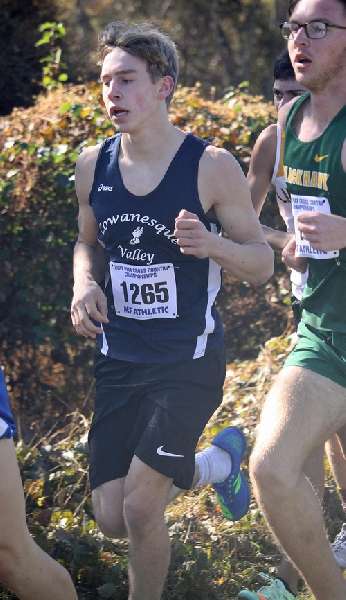 BY CHRIS MANNINGNorthern Tier Sports Report
HERSHEY — For almost the entire race CV's Owen Cummings was running out of the medals in the 30s. Even with a thousand meters to go he needed to make up nine spots to get on the podium. Instead, he made up 14 to take 20th, and earn a state medal during the PIAA, Class AA Cross-country Championship race Saturday.
"It feels great," said Cummings. "At Williamson this is what we worked on. The whole season, that was our goal, me, Kristian (Mizdail) and Nathaniel (Welch), it was to medal at states…I'm real happy that our hard work has paid off."
Cummings was 30th at the mile, but fell to 38th at the halfway point. He got up to 34th at the 4K, then ran the final 1000 meters in 3:22.4, out kicking a pack down the final stretch, to guarantee his hardware in 17:06.9.
"I could hear people yelling like 28th and 30-something," explained Cummings. "I was like, 'man, that's just not close enough,' so, at the end, I knew, I passed a big a group of people."
The final mile is flat until the a long uphill, before the hairpin turn to the finish.
"I tried keep my spot until I got to the hill," said Cummings. "I knew a lot of those kids would be just as tired as I was, so if I wanted it, I could get up the hill fast, and out kick them at the end."
The last 50 meters the sophomore laid it out on the line.
"I knew I had to push with everything I had," he said. "I knew it was going to be close."
Mizdail (17:24.9) was 41st. He ran with Cummings for much of the race, being 33rd at the mile, but fell to 41st with a thousand meters to go.
Welch (18:27.8) was 139th overall. He started out 113th at the mile, then fell to 157th at the 4K, but worked his way back up into the top 140.
All three of them will be back next year, and they have big goals for 2022.
"I think that next year we can improve a lot, through the track season on into the summer," said Cummings. "And hopefully we can all get medals next year."