DISTRICT IV FOOTBALL: WELLSBORO FALLS TO SOUTH WILLIAMSPORT IN FIRST-ROUND OF AA PLAYOFFS
(2021-11-06)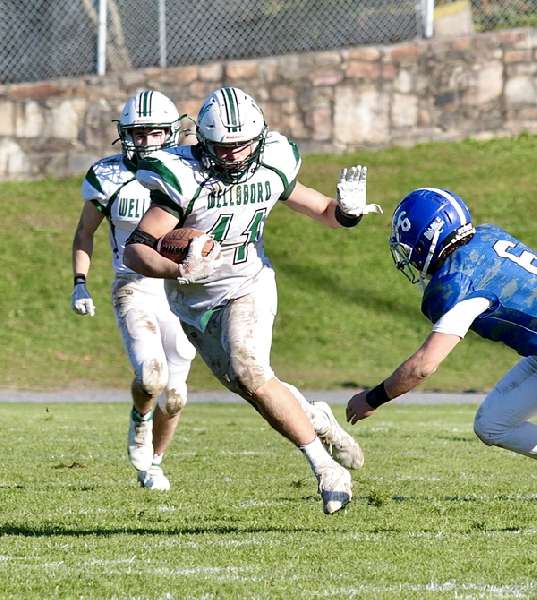 Lance LarcomNorthern Tier West Sports Report
SOUTH WILLIAMSPORT — In a rematch from Week 2 of the high school football season, fifth-seeded Wellsboro looked to prove that their 17-7 win over then State-ranked South Williamsport was not as huge of an upset as people thought, but it would be the fourth-seeded Mounties who would exact revenge, in definitive fashion, dropping the Hornets 36-7 in Saturday's District IV Class AA playoff match-up.
The glaring difference in this game compared to the match-up from two months ago was the efficiency of South QB Landon Lorson against the Hornets' defense this time around.
Lorson, held to 49 yards on 3-14 passing in the first meeting, threw two touchdowns Saturday, completing all five of his attempts for 88 yards.
After Wellsboro's first two drives ended in three-and-outs, South Williamsport capitalized and scored twice .. on a one-yard run by Lane Lusk and on a 22-yard pass from Lorson to Jake Casella. With 4:18 left in the first quarter, the Mounties led 14-0.
South Williamsport opened the second quarter with an 8-yard TD run by Clayton Swarthout, continued to stifle the Wellsboro offense, and took a 21-0 lead into the break.
The Mounties received the second-half kickoff and executed a 9-play drive, culminated by a 48-yard touchdown pass from Lorson to Grant Bachman, extending their lead to 28-0.
Wellsboro was finally able to put together and sustain a drive before the third quarter ended. Big gains by Darryn Callahan and Isaac Keane got the Hornets into Mountie territory, and a 31-yard scamper by Callahan set Wellsboro up at the SW nine-yard line.
Two plays later, Keane found a sliding Spencer Wetzel in the end zone for the touchdown. Jack Poirier's point-after was good and the Hornets trailed 28-7 with four minutes left in the third.
South Williamsport would add another score with six minutes left in the game, as Swarthout picked Keane off and returned it 41 yards for the score and a 34-7 lead. Apparently fearing a huge Hornet comeback, the Mounties elected to go for two and Lorson hit Casella to extend the lead to 36-7.
In his final game for Wellsboro, Keane finished 6-18 for 63 yards and his 11th touchdown of the season, adding an interception on defense, his 5th.
Callahan led Wellsboro's ground attack with 55 yards on seven carries, while Conner Adams carried the ball eight times for five yards, Joe Brown had 30 yards on six carries and Ryder Bowen had seven yards on two carries.
Defensively, Cameron Brought totaled 13 tackles and recovered a fumble, Brown had 10 tackles, Callahan had eight tackles and a sack and Bowen had nine tackles.
The loss ends Wellsboro's season at 5-4. Look for a season wrap-up on the Hornets soon.
_________________________
STATS
Wellsboro Passing
Isaac Keane: 6-for-18, 68 yds, 1 TD, 2 INT
* 1,030 for the season
Wellsboro Rushing
Darryn Callahan: 7 car, 55 yds
Joe Brown: 6 car, 30 yds
Keane: 9 car, 9 yds
Conner Adams: 8 car, 5 yds
Ryder Bowen: 2 car, 7 yds
Jack Poirier: 1 car, 0 yds
Wellsboro Receiving
Spencer Wetzel: 2 rec, 9 yds, 1 TD
Adams: 2 rec, 22 yds
Callahan: 1 rec, 16 yds
Brown: 1 rec, 16 yds
Wellsboro Defense
Wayne Shirley: 6 tkls
Cameron Brought: 13 tkls, 1 fum rec
Brown: 10 tkls
Callahan: 8 tkls
South Williamsport Passing
Landon Lorson: 5-for-5, 88 yds
Lane Lusk: 0-for-1, INT
SW Rushing
Lusk: 21 car, 101 yds
Clayton Swarthout: 10 car, 72 yds
Caden Harris: 4 car, 8 yds
Jake Casella: 1 car, 4 yds
Lorson: 9 car, 25 yds
SW Receiving
Casella: 2 rec, 25 yds
Grant Bachman: 2 rec, 60 yds
Swarthout: 1 rec, 3 yds
Team Stats
1st Downs: W - 12, SW - 13
Total Offense: W - 174, SW - 298
Penalties (Yds): W - 4 (30), SW - 5 (45)
Punts (Avg) W - 4 (22.5), SW - 3 (33.0)
Turnovers: W - 2, SW - 1
2-Point Conv: W - 0, SW - 1-1 (pass)
Scoring Summary
1st Quarter
SW: 8:51 - Lusk 1 yd run (Lorson kick), 0-7
SW: 4:18 - Casella 22 yd pass from Lorson (Lorson kick), 0-14
2nd Quarter
SW: 8:37 - Swarthout 8 yd run (Lorson kick), 0-21
3rd Quarter
SW: 7:25 - Bachman 48 yd pass from Lorson (Lorson kick), 0-28
W: 4:02 - Wetzel 6 yd pass from Keane (Poirier kick), 7-28
4th Quarter
SW: 6:02 - Swarthout 41 yd INT return (Lorson to Casella 2-pt pass), 7-36
_____________________
PHOTOS: Lance Larcom