PIAA CROSS COUNTRY: NORTH PENN-MANSFIELD DUO RUNS IN STATE MEETS, SHEDDEN MEDALS
(2021-11-06)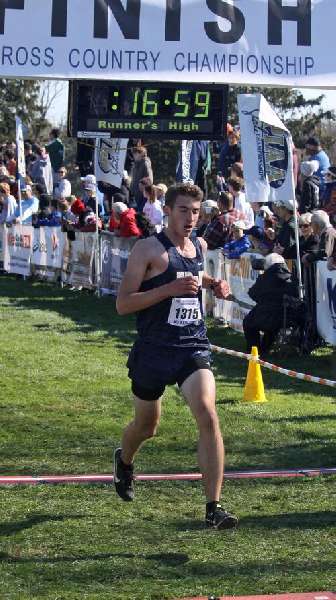 BY CHRIS MANNINGNorthern Tier Sports Report
HERSHEY — North Penn-Mansfield's Noah Shedden had been peaking at the right time. He won the NTL Coaches' Invitational, took third at districts, and now he has a state medal, as the senior was 15th in the Class AA, PIAA Cross-country Championships on Saturday.
"It feels pretty great," said Shedden. "I worked really hard through all my years in high school to get to this level. It just feels amazing to execute the game plan."
He broke 17 minutes, finishing the hilly course in 16:59.5. For much of the race Shedden ran in the medals, starting out 19th at the mile, then sitting in the mid-teens before finishing 15th.
"(I wanted) to go fast at the beginning, but not too fast, under control, then at the 2-mile mark start picking people off," Shedden said. "At points I knew where I was. At the beginning I had no idea where I was, but at the mile marker I knew I was around 20th."
Coming out of the hills after the 2-mile marker Shedden worked hard to keep his spot.
"I was a little bit faster than I should've, but it worked," he said about his pace.
He's especially proud to have a Class AA medal, running with some of the bigger schools in the state.
"Very few people have done it," said Shedden.
In the Class A girls' race Addison Farrer (24:31.0) was 184th overall. She started out 216th, and slowly worked her way up, hitting 203rd at the 2-mile, then 190th with a thousand meters to go, before finishing strong.
PHOTOS: Chris Manning