COLLEGE CROSS COUNTRY: WILLIAMSON GRAD JULES JONES AT DIVISION I CANISIUS
(2021-11-09)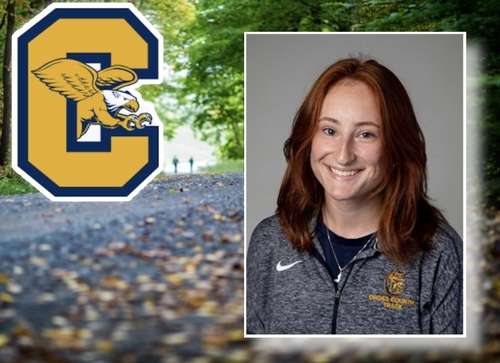 By LANCE LARCOM
Northern Tier West Sports Report
BUFFALO, NY — Williamson grad Jules Jones has continued to build on her collegiate cross country career at Division I Canisius, recently competing for the Golden Griffins at the 2021 MAAC Championships, held at the ESPN Wide World of Sports Complex in Orlando, Florida.
Canisius finished 7th at the championships, among 11 teams, with 204 team points. Winner Iona scored 36 points.
Jones, a sophomore, ran the 6K course in 24:24.6, good for 77th overall and 6th among the Griffins' 15 runners.
Earlier this season, Jones helped Canisius to a 2nd-place finish among 12 teams at the Griffins' Alumni Classic 5K, finishing in 26th place with a time of 20:25.5.
At the prestigious 47th Lehigh Paul Short Run in Bethlehem Pa, Jones finished the 6K in 23:54.0 and placed 189th. Canisius finished 22nd at the race, won by the University of Miami (Fla).
Up next for the Golden Griffins is the NCAA Northeast Regional, to be held in Boston on November 12. For updates on all of Canisius' athletics, follow them on Twitter, Instagram and become a fan on Facebook.