NTL BOYS SOCCER: A LOOK BACK AT NORTH PENN-LIBERTY'S SEASON (24 PHOTOS)
(2021-11-15)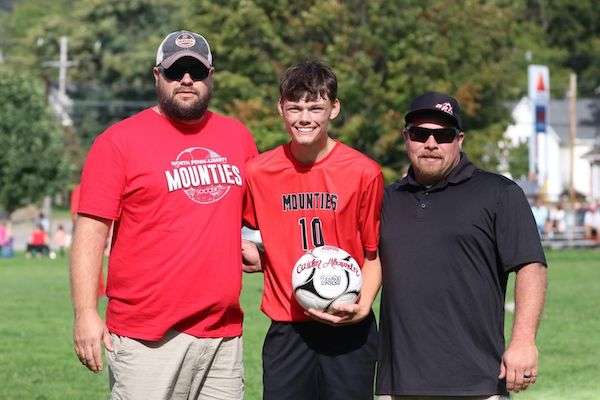 By Lance Larcom
Northern Tier West Sports Report
LIBERTY — The North Penn-Liberty boys soccer team culminated their 2021 regular season, in which they finished 8-8 and saw forward Caiden Alexander score his 50th career goal, with a trip to the District IV AA playoffs for the second straight year.
Head Coach Matt Grinnell was pleased with the season overall, and the playoff berth, but remains certain that his squad left some victories on the field.
"I think the season was good, but not great," Grinnell stated, "I really thought we would have had more wins."
The Mounties swept NTL foes Troy and Towanda, split a pair of games with Williamson, and lost a one-goal game with league runner-up Wellsboro and a 3-0 game with NTL champion Athens.
Forward Caiden Alexander had a pair of monster games against Troy for NPL .. scoring five goals in one meeting and four goals in the second win over the Trojans. In between those games, the senior had a pair of goals in a win over Williamson, giving him 50 goals for his career.
Alexander finished the season with 17 goals and seven assists, and was named by the league coaches to the All-NTL first team.
Midfielder Derek Litzelman was named to the NTL second team. The junior had five goals and four assists for the Mounties. Teammate and fellow junior Brody Burleigh was named to the second team defense.
The Mounties featured a strong core of seniors that will be missed next season, including Alexander, Michael Harman, Aladen Jackson, Kurtis Wetzel, Zachary Hoffman, William Rutledge and Stettson McGovern.
"Each senior had a big part in the team," Grinnell explained, "from stopping goals to scoring goals, from playing pranks on other players or giving advice in practice and in games. Each senior meant a lot to the program, and they were a big help with the newer players."
Grinnell points to all of the newcomers as those that played a big role on the team, specifically Corey Smith and Adynn Wheeland on defense, and Brady Stetter, who scored a hat trick in a 5-4 win over Towanda, at the forward position.
Coach Grinnell is eager to get his team back to work, and expressed his gratitude toward all those that made their season a successful one:
"I would like to thank my family and friends for all the support they gave me. I would like to thank all the players and the parents for playing and supporting the team all year. I would also like to thank all the reporters for covering all of our games and all of everyone else's games as well. I would also like to thank Jason Jackson for helping me coach this season."
_____________________