NTL GOLF: A LOOK BACK AT WELLSBORO'S SOLID GOLF SEASON
(2021-11-16)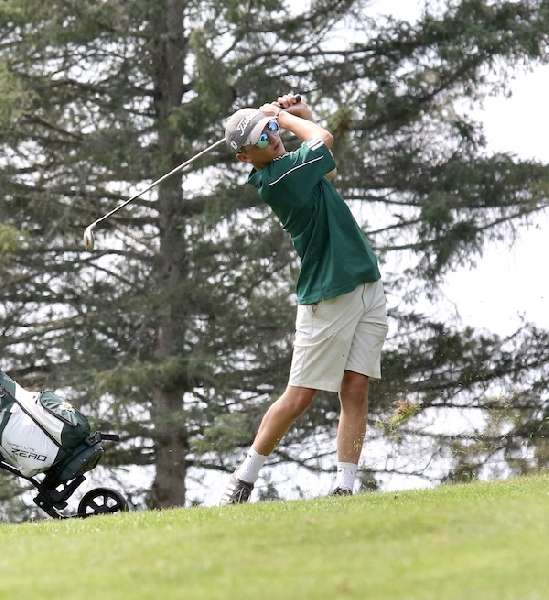 By Lance Larcom
Northern Tier West Sports Report
WELLSBORO — The Wellsboro varsity golf team, much like the rest of the NTL, experienced a season that Head Coach Steve Macensky describes as a "roller coaster", with four different teams winning a league match and less than 10 wins separating those four top teams.
"This was by far the most teams in contention since I started coaching," Macensky says. "We had a chance to win the league right up to the last match at our home course and we just didn't play our best that day and missed out by a few strokes."
Wellsboro finished the season 32-9, two wins behind league-champ Athens, who went 34-7. The Hornets won the weekly league match once, finished second three times and third three times.
In a game, and a league, where consistency is hard to come by, Coach Macensky has bucked that trend. The seventh-year coach picked up his 200th win this season, and the Hornets have not finished worse than second in the league over the last six years, or lost more than nine individual matches in the same time.
With only a lone senior on the team .. Connor Pierce, 130 average in four matches .. the Hornets will return all of their scoring lineup next season.
Leading the way will be Blake Hamblin, who had 93.75 average this season, good for 6th overall in the NTL. The junior had a low-round score of 89 and was named to the All-NTL first team.
The second-low average for Wellsboro was held by Hayden Zuchowski, who Coach Macensky points to as the golfer who made the most improvement from last season to this year. The sophomore was 9th in the NTL with a 95.22 average and shot a low-round of 86 while being named to the All-NTL second team.
Also returning next season will be the Hornets' third and fourth low-scorers this year, sophomore Hannalee Cleveland and junior Andrew Merriman. Cleveland had a 97.56 average .. 12th overall in the league .. and Merriman had a 99.88 .. 16th.
Macensky is anxious to get his young squad back on the course, saying they will begin playing "as soon as the course opens in the Spring!"
PHOTOS: LANCE LARCOM