NTL VOLLEYBALL: COACHES NAME ALL-STAR TEAMS, NPL'S STETTER UTILITY PLAYER OF THE YEAR
(2021-11-19)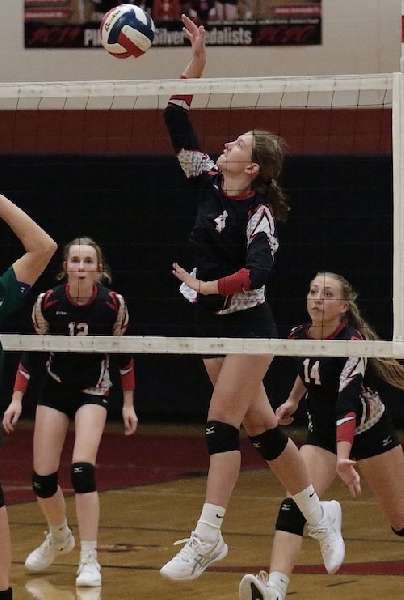 By Lance Larcom
Northern Tier West Sports Report
The NTL Large and Small school coaches have named their 2021 all-stars, with several West players being selected to the first and second teams, while North Penn-Liberty junior Darby Stetter was named the Utility Player of the Year.
Stetter helped lead the Mounties to an NTL Large School Championship and to the District IV AA finals.
Mountie teammates Saige Lehman and Aubrey Pequignot, and Wellsboro's Emma Owlett were each named to the Large School first team. Other players selected were Maddy Maynard and Brea Overpeck from Towanda and Athens' Jenny Ryan.
The Small School first team consists of Williamson's Riley Sargent and Adelaide Schmitt, along with Canton's Jillaney Hartford and Rachel Martin, Wyalusing's Emilee Otis and NEB's Emily Susanj.
The Large School Second Team consists of NPL's Emerald Walker and Payton Chapel, Wellsboro's Paige Logsdon, Athens' Ally Martin and Troy's Meredith Cole and Madison Vargas.
Named to the Small School second team were Williamson's Grace Stephens and TR Jones, Canton's Keri Wesneski and Allyson Butcher and Wyalusing's London Edwards and Reanne Rodriguez.
Other individual award winners were:
Player of the Year: Aislyn Williams, Canton
Offensive MVP: Paige Manchester, Towanda
Defensive MVP: Priscilla Newton, Wyalusing
Coach of the Year: Sheila Wesneski, Canton