COLLEGE MEN'S TENNIS: WELLSBORO GRADS REDELL & LEACH PICK UP WINS, AWARDS FOR LYCO
(2021-11-22)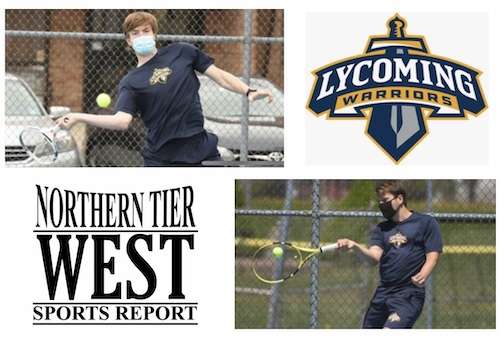 By Lance Larcom
Northern Tier West Sports Report
WILLIAMSPORT — Wellsboro grads Nate Redell and Luke Leach lead their Lycoming tennis team to a 2-3 record in the fall portion of the season, including a pair of wins in the last week where Redell went 4-0 and earned the MAC Freedom Player of the Week award.
In Lyco's first dual meet wins of the season, Redell went 2-0 at No. 1 singles .. winning each match 6-0, 6-0 .. and 2-0 at No. 1 doubles in wins over Elizabethtown and Albright.
Leach won his No. 5 singles match against Elizabethtown 6-1, 6-2, then won 6-1, 6-1 in his No. 3 singles match and 8-1 in his No. 2 doubles match against Albright.
Redell, a junior, is the first Warrior to earn the conference's player of the week award since 2019.
Leach, a sophomore, opened the season with a 7-6 (7-4), 2-6, 10-4 win in his No. 3 singles match against Susquehanna, then followed that up by teaming up with Cody Haas and winning a doubles match at the MAC Individual Championships.
Against Penn College, Leach and Haas won their No. 2 doubles match 8-5, and at the King's Fall Invitational, Leach teamed up with Redell to win a No. 1 doubles match against Misericordia.
The Warriors (2-3 overall) pick up the 2021-22 season on Friday, March 25, when they host Alfred University.
PHOTOS COURTESY OF lycomingathletics.com