NTL FOOTBALL: COWANESQUE VALLEY HAS SEASON TO REMEMBER AND BUILD ON
(2021-11-22)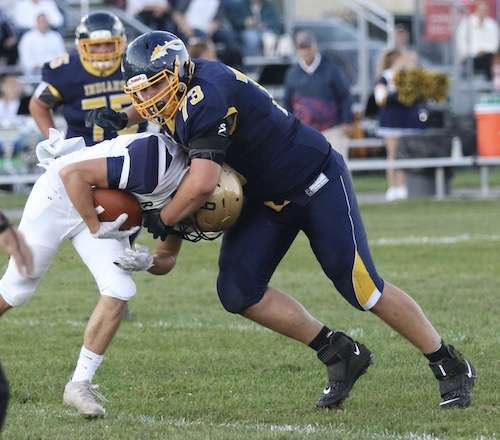 By Lance Larcom
Northern Tier West Sports Report
WESTFIELD — The Cowanesque Valley football team had a historic season, both as a team .. their six wins were more than the previous three seasons combined, were the most since 1975, and qualified them for post-season play for the first time in 32 seasons .. and individually, as several players finished at or near the top of every statistical leaderboard in the league.
Third-year Head Coach Mike Schmitt credits numerous variables that lead to CV's successful season .. a surprise to many, but not to the Indians.
"I thought we would be better and felt if our young guys matured and we would steer clear of injuries we could win more games than most people thought we would," Schmitt explains. "Also, as a group, our senior class did a great job of leading by example."
CV opened the season on the road against a solid South Williamsport team that would end up 7-4, reaching the second round of the District IV AA playoffs. The Indians played well for a half, moving the ball somewhat, but fell victim to untimely penalties and trailed 13-0 at the half. A late-August storm rolled through the area and pushed the second half to Monday, and the two-day break didn't help the Indians, as they fell 41-0 and never really established the offensive efficiency they'd display throughout the rest of the season.
The following week's 26-19 win over Sayre, who finished the season in the playoffs and went 5-6, revealed how far Cowanesque Valley had come. Freshman Tim Freeman ran for 146 yards on 26 carries with two touchdowns, and junior QB Jake Schmitt completed 15 passes for 136 yards and a score, and rushed for 48 yards with another touchdown.
Schmitt finished the season with 1,686 yards passing, completing 137 of his 254 attempts. All were tops in the NTL, and his 12 touchdowns through the air was second in the league. The junior, who had taken over at QB midway through the abbreviated 2020 season, also added four scores and 256 yards on the ground.
CV followed their first win over an NTL team not named CMVT or Bucktail since 2017 with a 15-14 win over Northwest Area, who finished the season 3-6, then dropped a 42-21 game to three-time defending District IV champ Muncy in Week 4.
Three solid wins in a row .. 50-12 over CMVT, 26-19 over Towanda and 32-0 over Wyalusing .. guaranteed CV of a winning record, and alerted the rest of the NTL that Cowanesque Valley was not the same old CV that they were used to facing.
QB Schmitt continued building his numbers, and Freeman became known as "that CV freshman", on his way to a 1,136 yard rushing season, good for fourth in the league, with 12 TD's, second most on the ground in the NTL. He added 10 receptions for 85 yards and a score to his breakthrough season totals.
Schmitt's favorite targets were Tucker St. Peter and Tanyon Brown, a pair of seniors that Coach Schmitt was thankful to have leading his receiving corp, saying, "Tucker St. Peter and Tanyon Brown were great players and really have done an amazing job of coaching and motivating the younger players through correcting mistakes and volunteering any time to run scout for the backups, and even run drills if needed."
St. Peter led the league with 50 catches for 684 yards. Brown, who missed the Indians' final two games with an injury, was fourth in the league in receptions, with 33, and yards, 432. Both wideouts had three touchdowns, as Schmitt connected with six different receivers for scores during the season.
Elliott Good also had three TD catches, and was fifth in the league with 29 receptions for 352 yards out of the slot. Coach Schmitt says of senior Good, "Elliot was a young man who also was dedicated to preparation in the weight room and was always out in the hallway trying to recruit more kids to play and work in the off season."
Coach Schmitt also pointed to freshman Fletcher Good as a player that CV is looking at for big things in the future. "We had quite a few freshmen really stand out and showed up," Schmitt says. "Tim Freeman and Fletcher Good really had outstanding freshman campaigns and both contributed on both sides of the ball. Tim got a lot of attention, but Fletcher really played well all season also."
CV had their three-game winning streak snapped at Montgomery when they fell 21-20 in the last minute of the game to the playoff-bound Red Raiders, but rebounded with a 20-0 rain/mud-soaked win over Otto-Eldred/Oswayo Valley to finish off their regular season at 6-3. The Indians could have added to their win total with a second match-up scheduled with CMVT, but the game was cancelled.
The Indians entered the post-season as the fifth seed in a competitive 3A class, falling to Loyalsock 47-7 in the first round. While the new culture being taught in CV doesn't include being satisfied with any loss, turning around a program is a process that can benefit greatly from playing the likes of teams that are successful year after year.
"I believe our milestones have been well documented," Coach Schmitt explains, "but I believe it was an experience that should help interest more participation and, for our current players, a desire to get in the weight room and get better."
The current group of seniors that CV loses will be very difficult to replace .. none more so than Kade Sottolano and Mike Sipps.
Each anchored the offensive line that enabled CV's skill position players to flourish, and defensively, there weren't many players in the league that required more game-planning around than Sottolano on the defensive line and Sipps at his middle linebacker spot.
Sottolano lead the league with seven QB sacks and had 60 tackles, despite a steady dose of being at least double-teamed.
Sipps displayed a level of athleticism not usually seen from offensive linemen, collecting 115 tackles on the season, as well as intercepting three passes. He also took over kicking duties when Brown was injured, and completed a 25-yard pass on a fake punt.
Coach Schmitt had no reservations when asked what the two meant to CV's season, saying, "Mike Sipps and Kade Sottolano's dedication to the weight room and pushing others is what lead this team to improvement."
Another senior, two-way lineman Miche Robbins, also drew praise from Coach Schmitt. "Miche Robbins was a great mentor to so many of our kids through his encouragement and hardnose play."
As the Indians continue to build their program, Coach Schmitt and his staff are well aware that it takes off-season work to have in-season success. They encourage all of their players to play other sports, and provide opportunities for the players to lift at least three times a week either before, during or after school hours.
SEASON PHOTOS: Lance Larcom