NTL GIRLS TENNIS: NORTH PENN-LIBERTY'S YOUNG MOUNTIES MAKE BIG STRIDES
(2021-11-23)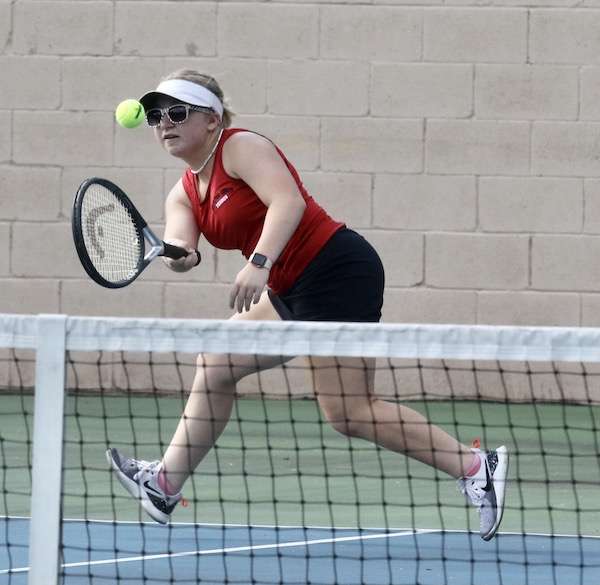 By Lance Larcom
Northern Tier West Sports Report
LIBERTY — The North Penn-Liberty girls' tennis team finished the season 3-7, including a two-match winning streak to end the season that Head Coach Joe Eglesia points to as an encouraging accomplishment.
"From a team perspective", Eglesia explains, "the finish to our season (wins over Wellsboro and St. John Neuman) was probably our most significant milestone and hopefully a sign of things to come for the program."
Looking at the individual records of the girls did not tell the whole story of how much improvement was made at every spot in the Mounties lineup, as Marissa Griess finished 2-6 in the No. 1 singles spot and team No. 2 Martina Bradford went 2-7.
"Each player got better individually over the course of the season," Eglesia says, "and this was our main objective. I believe this started to show in our set scores, and we were more competitive toward the end of the season."
Without a senior or a junior on the roster, Eglesia and his squad focused on more intangible goals, rather than wins and losses.
"We set realistic expectations to get better." Eglesia says. "Each girl had individual goals related to skills and strategies written in this regard. We definitely met or exceeded these goals across the board."
While Griess and Bradford accounted for all of the Mounties' individual wins, fellow sophomore Addison Hill drew praise from her coach for her progression throughout the year.
"She (Hill) started very few matches in 2020, only really getting to play varsity when another starter was unable to play", Eglesia explained. "This season, she earned a starting spot in first-team doubles and helped her team win some matches. Later in the season, she challenged for a third-seed singles spot and never looked back. To go from hardly ever playing to the third best player on the team earned her our Most Improved Player of the season award."
Hill started the season paired up with freshman Ellie Brion and the duo went 2-1 in No. 1 doubles action, while fellow first-year Ella Weiskopff and sophomore Lillyn Tanner held down the No. 2 doubles spot and went 2-7. Brion teamed with sophomore Angeline Benetiz later in the season and the pair went 2-4. Coach Eglesia is excited to see how the experience this year translates to results next season.
"Ellie Brion and Ella Weiskopff surprised all of us in a positive way with the stability they brought to their doubles teams," Eglesia says. "Both are competitive and really put the work into practice in order to get better. I really look forward to seeing what these girls can accomplish next year."
The Mounties' off-season schedule is a mix of individual and team activities, Coach Eglesia says, and has already began, much to his delight.
"I know some of the girls are continuing to play tennis right now, which is awesome!", Eglesia relays. "I see a true love of the sport, and I believe they enjoy playing together as friends."