NTL CROSS COUNTRY: COWANESQUE VALLEY BOYS WIN NTL CROWN, DISTRICT & STATE MEDALS
(2021-11-23)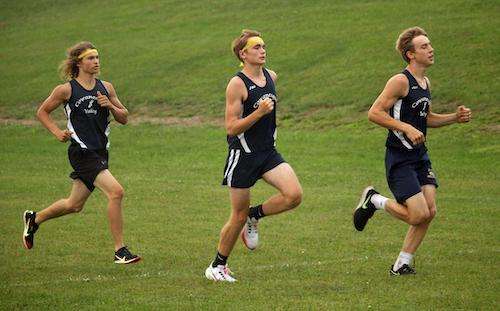 By Lance Larcom
Northern Tier West Sports Report
The Cowanesque Valley boys' cross country team experienced an unprecedented season this year, achieving their first undefeated regular season and the first NTL championship in program history, as well as finishing third at the District IV meet, their highest finish ever.
The Indians also had three runners earn District medals and qualify for the State meet .. another first for the program.
Sophomores Owen Cummings and Kristian Mizdail and junior Nathaniel Welch formed a talented core for the Indians this season.
Cummings and Mizdail often ran close together and finished with similar times. Mizdail finished second at the NTL Coaches Invite to close out the regular season, with Cummings finishing in fourth and Welch taking eighth. Freshman Nathaniel Boyer and sophomore Michael Lundy completed CV's scoring, placing 21st and 36th.
At the District IV meet in Bloomsburg, Cummings and Mizdail finished 5th and 6th and Welch was 16th, as all three qualified for states. Boyer placed 47th and Lundy was 57th, giving the Indians a 3rd-place finish as a team.
At the State meet, Cummings brought home a medal for finishing in 20th place. Mizdail came in 41st and Welch was 139th.
Coach Aaron Wooster knew coming in that CV had the potential to put together a great season.
"Coming into the fall, I knew that we had a strong boys' squad", Wooster says. "Having coached most of them in the previous track season, we had a good idea of what they were capable of, and they made us proud with their accomplishments this year."
Like the boys' squad, who had a lone senior in Glenn Barnes, the girls' team also had just one, Chelsea Hungerford.
Wooster says of the two 12th-graders, "Both were primarily soccer players who ran with us when their soccer schedules permitted it. They are both solid runners and contributed to their team's success."
CV had only five runners on the girls' side, and often did not have the full squad at meets due to injuries and illness. Without being to score as a full team, Wooster says that his girls' focused on running their best race, and on growth and improvement.
Junior Ali Bieser finished 32nd at the NTL Coaches Invite, while sophomore Teagan Jones finished 37th and junior Ryann Slusser was 52nd.
At the District IV Meet, Hungerford led the way and finished 31st, while Bieser was 34th, Jones was 39th and Slusser was 55th.
Wooster is anxious to see how much better his young runners can get, saying, "Graduating just one senior each, I think it has really sparked a rededication to both teams and to running - they really want to keep winning meets and becoming faster racers."