NTL BOYS SOCCER: WILLIAMSON USES SEASON TO BUILD FOR THE FUTURE
(2021-11-24)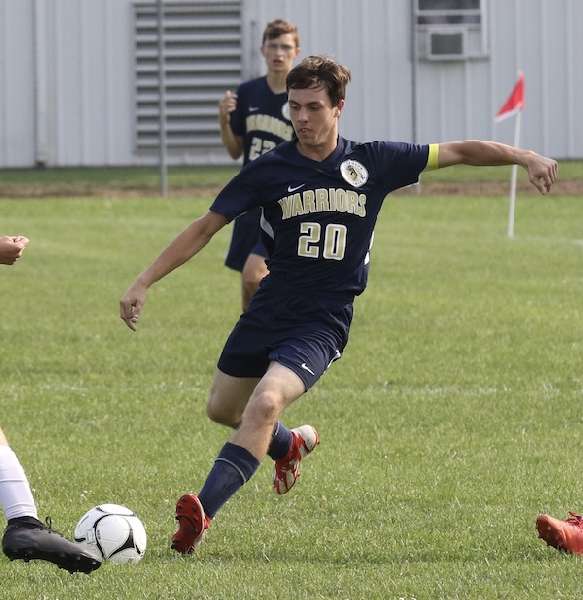 By Lance Larcom
Northern Tier West Sports Report
TIOGA JUNCTION — The Williamson boys soccer team played right up to their last game of the regular season fighting for a playoff spot, but a 2-1 loss to NEB .. their sixth one-goal loss of the year .. dropped the Warriors to 8-10 and just shy of a post-season berth.
Head Coach Kyle Adriance knows his squad let a couple games get away from them, but also that his young team grew a lot during the campaign.
"I feel our team was capable of a lot more this season." Adriance says, "We had a great team with very talented players, but had some unexpected losses. That being said, we had some great player improvements as well."
The Warriors depth was apparent not only by watching them play, but also in their stats. Their 46 goals on the season were scored by 13 different players. Trent Achey lead the way, scoring 11 goals, followed by Ayden Sprague with seven, Stephen Gohr with six and Duncan Kerr, who missed considerable time with an injury, scored five.
Coach Adriance addressed the junior's absence, saying, "He (Kerr) is a key player for us and really showed his capabilities toward the end of the season, but we certainly missed him prior to that."
A player who Adriance and his returning players will miss next season is lone Warrior senior Glenn Barnes. Said Adriance of Barnes, "He was by far our hardest worker, most physical, and determined player on the field. Glenn will be a huge miss for our team."
As with their offense, the Warriors had multiple players contribute to a defense that Adriance says was a definite strength for Williamson this season.
"As a team, we had some great defensive milestones this season", Adriance says. "At times, our backline (Barnes, Eli Kaufman, Robert Kipferl, Erik Berkan, Jordan Monroe, Evan Zinck) and goal keeper (Loagan Stickler) had clean sheets and showed great discipline and held teams to very low score lines at times. It was great to see that part of their game improve."
With a team made up almost entirely of underclassmen, getting his younger players experience was an important, if not necessary, goal of Adriance's.
"We had some freshman and sophomores on the team really step up this year. Stickler, Kade Ficks and Monroe were starting freshman for us this year and each of them made a great contribution to the team. Will Gehman, a sophomore, was another standout player. Clayton Webster (freshman), Joey Estrada (sophomore), and Zinck (sophomore) really competed and pushed our starters. I predict they'll play a bigger role next season."
To prepare for next year, Adriance points to a futsal/indoor soccer program that he runs for 3rd-to-12th grade players, as well as a travel club that the Coach has started for players in the area .. The Warrior Academy.