NTL BOYS BASKETBALL: COWANESQUE VALLEY WINS SHOOTOUT IN SAYRE
(2022-01-12)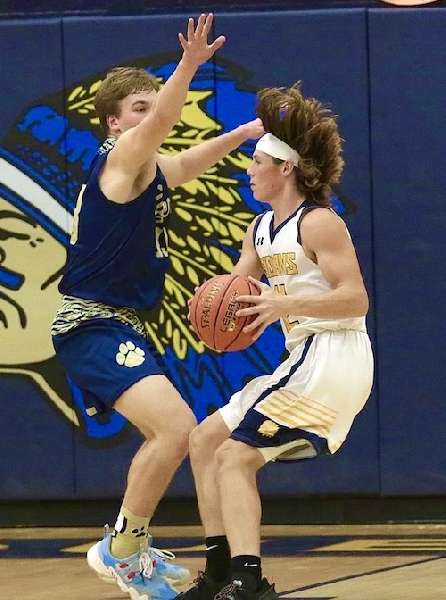 By Lance Larcom
Northern Tier West Sports Report
WESTFIELD — Cowanesque Valley scored 57 second-half points .. including a 20-point third quarter by Tucker St. Peter .. to overcome an 11-point halftime deficit and rallied to down Sayre 85-78 in NTL Small School boys basketball action Wednesday.
The two teams combined for 21 three pointers in the game, as St. Peter finished with 40 points and hit eight of CV's 11 threes in the shootout.
Sayre scored 22 first-quarter points to CV's 14, as McGwire Painter scored six for the Indians and Gage Tilton and St. Peter each hit a three and Fletcher Good scored once.
The Redskins extended their lead in the second quarter, scoring 17 points, while St. Peter hit for eight points and Painter and Good added four and two points, leaving Sayre with a 39-28 halftime lead.
St. Peter's 20-point third quarter, which included five threes, helped CV outscore Sayre 29-20 to close the gap to two at 59-57 as they entered the final frame.
Sayre scored 19 fourth-quarter points but St. Peter hit for nine points and Painter and Tilton each scored seven, Good hit a three pointer and Carter Ackley had a basket to overcome the Redskins with a 28-point quarter and the win.
In addition to St. Peter's 40 points, Painter scored 23 and Tilton reached double figures with 12.
Good finished with six points while Ackley and Julian Francis each chipped in with two points.
The Indians now stand at 5-6 on the season and will visit North Penn-Liberty Friday.