NTL BOYS SOCCER: FALLING SHY OF LOFTY GOALS WON'T DEFINE WELLSBORO'S SEASON
(2021-11-17)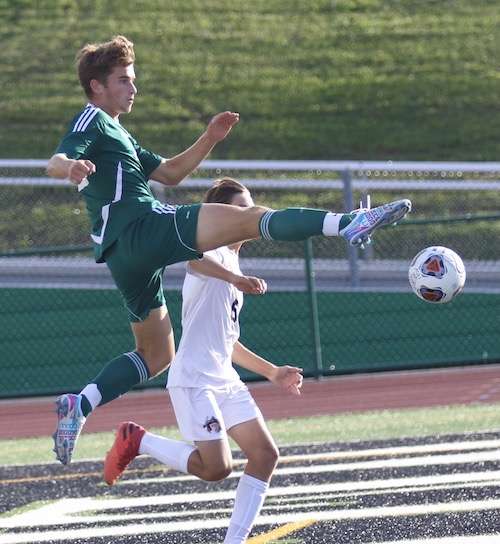 By Lance Larcom
Northern Tier West Sports Report
WELLSBORO — The Hornets have enjoyed successes at many levels in recent years, both individually and as a team, so while they came up a game short in the the NTL-championship race and bowed out of the District IV playoffs in the first round, Coach Todd Fitch was proud of his team for what they did accomplish.
"This program has experienced league, district, and state success," Fitch explained, "so any time we fall short of those marks, it is probably fair to say that things didn't go the way we wanted them to. With that said, this year's team had many of the boys recognized for their individual achievements, they made a strong run at the league title, and we received the NTL Officials' Sportsmanship Award. I think it would be a mistake to discredit what this year's team has accomplished."
Wellsboro won six-of-seven games at one point during the season, including a 5-3 win over Athens in their first match-up with the eventual league champs. A loss to the Wildcats later in the season and a draw with NEB would be the Hornets' only blights on their 9-1-1 record in the NTL.
Junior Peyton McClure was honored as the
Defensive Player of the Year
by the NTL Coaches following the season. Joining McClure on the NTL first-team was junior striker Jack Poirier, senior midfielder Owen Richardson, senior defender Brody Morral and junior goal-keeper Aiden Gehman.
Poirier led the Hornets in goals (24), assists (16), and points (64), while Richardson had five goals and four assists. Morral was a first-team defender with 1 goal scored, and Gehman was named first-team goalie after making 97 saves in 1,235 minutes of play with three shutouts.
Named to the second team by the NTL Coaches were junior Sam Rudy (8 goals, 3 assists), senior Matt Richards (10 goals, 5 assists), junior Stephen Gohr and sophomore Caden Smith.
With very good numbers and a good mix of younger and older players, Coach Fitch was thankful for his senior players for setting a good example for the whole team.
"It became evident early on that this team was a very cohesive group of players," Fitch says. "I credit our seniors for creating an environment on this team that contributed to the highs we experienced and held us together during the lows."
To take advantage of a very strong core of returning players, the Hornets will stay busy in the offseason by starting open gyms in January, playing in an indoor league in Williamsport throughout the winter and early spring and will hold bi-weekly summer sessions, attend a tournament and a team camp.